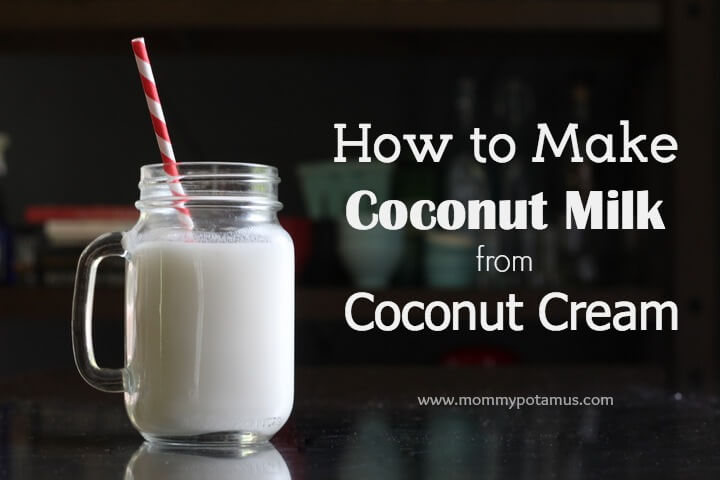 Coconut milk is a fantastic healthy ingredients that is found in many real food recipes, including some of our favorites like mango popsicles and coconut vanilla pudding. Coconut milk can add a rich depth of flavor as well as a depth of nutritional benefits. Now, the convenient thing to do, of course, is to buy coconut milk from the store. Unfortunately, not all manufacturers of coconut milk can be trusted to be truly "organic" because of their inclusion of carrageenan in their product. Your best bet, then, is to simply make your own coconut milk.
Does that sound too complicated to you? We promise that it really isn't difficult! This easy-to-understand post walks you through the simple instructions on how to make coconut milk from coconut cream. It couldn't get any easier! So don't be afraid to be bold in the kitchen and make your own coconut milk. Your health and your wallet will thank you!
This little kitchen hack is so easy . . . It almost feels like cheating, but of all the methods I've used to make coconut milk it actually delivers the best results. (And I've used a few –  you can watch Katiepotamus and I make coconut milk from fresh coconut here and coconut flakes here.) Rich in immune-boosting lauric, bone building phosphorous and soothing magnesium, coconut milk is one of my favorite kitchen ingredients. I especially love it in soft-serve ice cream, coconut creme brulee, raspberry custard tartlets, fudge pudding pops, though it makes a fantastic base for dairy-free shrimp chowder, too.

Why not just buy the canned stuff?
Sometimes I do! But there are two main reasons I don't use it very often:
BPA
Manufacturers can slap on the "BPA-Free" label even if their products still contain toxic bisphenol. You can read more about that here.
Additives Canned coconut milk often contains thickeners like guar gum and xanthan gum, which can cause digestive problems in some people. Xanthan gum in particular can be problematic for people sensitive to corn, soy, dairy, or wheat, since it is a product of bacterial fermentation that is often grown on those mediums. Personally, I've noticed that my stomach feels a little "off" after consuming coconut milk that contains guar or xanthan gum, so I prefer additive-free. There are two brands that I know of that do not have any thickeners or additives, and they come in BPA-free packaging. Does that mean they don't contain bisphenol? Not necessarily, but they are my "go to" options if I'm using pre-made. Find them here and here. Really, though, this method is so quick and easy that I don't even consider pre-made unless I can't get coconut cream.