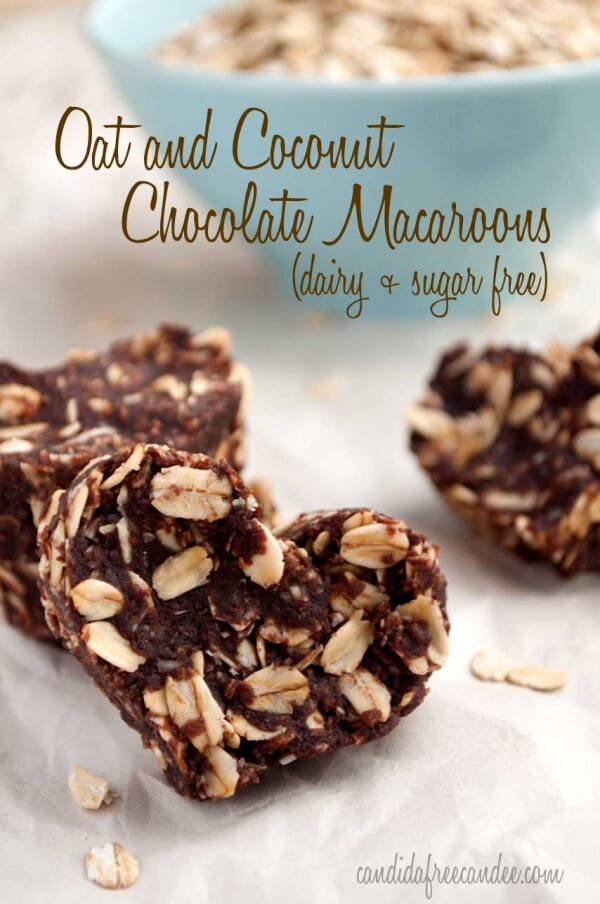 These delicious, no-bake macaroons are made with chocolate, oats, and coconut! They are dairy and sugar-free 🙂
First up is a revamped version of one of my favorite and most-memorable childhood treats that I will be sharing here on Whole New Mom. They were actually one of my Dad's specialties. Yes, he cooks, quite well actually, and he is pretty creative to boot. He actually used to make these at Christmas and they didn't last much past that, as we would devour them.
They are chocolate oat and coconut macaroons and they are SO good.
I remember making them as a family and scraping the extras from the sides of the warm pot, eating every last morsel–
Not an oat went to waste!
Because of my health issues (candida), I never dreamt that I would eat them again and I had no intention of attempting to revamp my Dad's recipe, I couldn't imagine matching it.
But when I was searching how to add gelatin to baked goods (because I need to eat more gelatin) I came acrossthis recipe and thought I would give it a shot.
So, the cat is out of the bag, gelatin is the secret ingredient. Yes, gelatin.
Scared of gelatin? Don't be. You cannot tell in the final product. You won't end up with a gummy candy texture and you'll have a little extra gelatin for the day! (See my post of the benefits of gelatin and a gummy candy recipe here).
I tried it with my below adaptations and they were delicious.
I was shocked at how close they tasted to the original! They were chocolate-y, and hearty, with a hint of coconut."