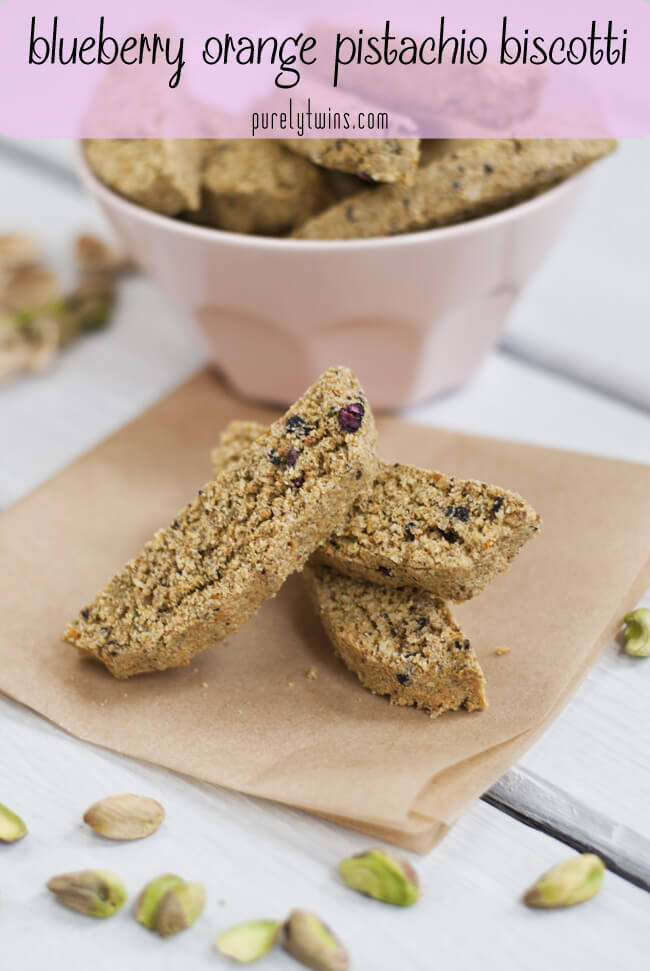 Biscotti tastes wonderfully when dunked in coffee and can be a fantastic treat at any time of the day. This raw biscotti recipe is made with pistachio and pumpkin seed flour, coconut flakes, dried blueberries, and orange juice and zest. With this easy-to-follow raw biscotti recipe, you'll be diving in to crunchy goodness with minimum effort!
"A little history about our raw biscotti making.
Well, it all began about 5 years ago when we started playing around with ingredients in our food processor. It really started when we got into raw foods and making lots of raw crackers (side note we have a cracker cookbook coming your way soon). One day we thought… we should try making a raw biscotti.
We both looked at each other with huge smiles on faces. So off to the kitchen we went.
After several (and we mean several) attempts at getting a soft yet crunchy raw biscotti… we finally got one! Which that recipe is in our purely twins classic cookbook – the almond cardamom biscotti was created. From that point on we continued to play around with more and more biscotti flavors.
Another side note: the name biscotti is used to describe a long, dry, hard, twice-baked cookie with a curved top and flat bottom. Made for dunking into wine or coffee.
And this flavor for a pistachio orange biscotti just came to us one day.
Even though we love chocolate and pistachios together, we also discovered that we adore pistachios with orange.
And we added in some dried blueberries to round out the flavors. With the addition of orange juice and zest, these are bursting with flavor!"