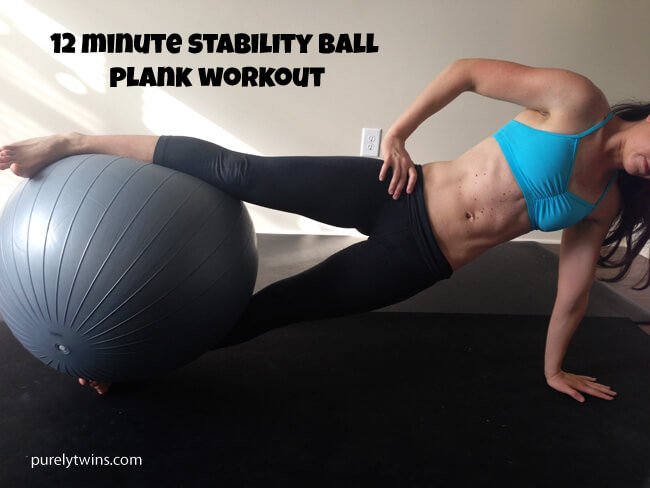 When it comes to exercise and fitness, the core of almost every workout is strengthening the core (did you like that pun? 😉 ). Considering it's not only the center and foundation of your physique, but also what enables you to employ more strength during even the simplest of daily activities, toning your whole core is absolutely necessary. It is what will keep your whole self strong and capable. This stability ball plank workout is a top notch way to tone and strengthen your core for maximum benefit. The ladies of Purely Twins will walk you through the plank workout with the stability ball and show you various exercises to do in order to build your core muscles. Not only will it strengthen your core, but it also consequently works your entire body. So if you're looking for lean arms and toned legs, this workout is for you.
What's even better? You can do it in twelve minutes! So often, many of us are tempted to use the excuse that we are "too busy" to fulfill an adequate workout. But twelve minutes? Anyone has time to complete a twelve minute workout! No more excuses. This stability ball plank workout just requires you and an exercise ball, is easy to understand and follow, and will push you to perform to the best of your physical ability.
Also in this post is a similar pregnancy-friendly plank workout. Core strength is perhaps even more vital for the expectant mother, and this is a great way to tone the muscles that will be working to grow in the coming months; and, of course, prepare the core for labor and delivery. Follow the instructions in this post for awesome instructions on how to perform this exercise during pregnancy. Of course, always listen to your body – it will let you know if you're pushing it too hard!
"12 minute interval plank workout using a stability ball.
This workout is made up of some fun exercises that target the whole core.
The single leg ab roll in on the stability ball is a new move we practice from time to time. It's really challenging and will engage your full body. Your abs will be on fire!
Purely training #68 is a 3 part plank workout.
Equipment:  stability ball
Style of workout:  12 minute interval plank workout
Workout focus: core and arms
For each part, set your Gymboss Interval Timer to 8 rounds of 10 sec rest and 20 sec work.
Interval plank home workout that will build strength in the mid section.
Purely fit sisters  get ready to build a strong, lean mid section. 
Your shoulders and legs will get a great workout too! One thing we love about planks –> they work the full body!
Are you ready to plank it out?
And this workout is pregnancy safe. Lori is in her 2nd trimester (she did this workout at 26 weeks). Having a strong core is important during pregnancy. Follow along with the modifications mentioned in the video and as always listen to your body!
If you are new to planks and working out please take this workout slow and omit moves that feel uncomfortable.
Here is the stability ball plank workout breakdown."