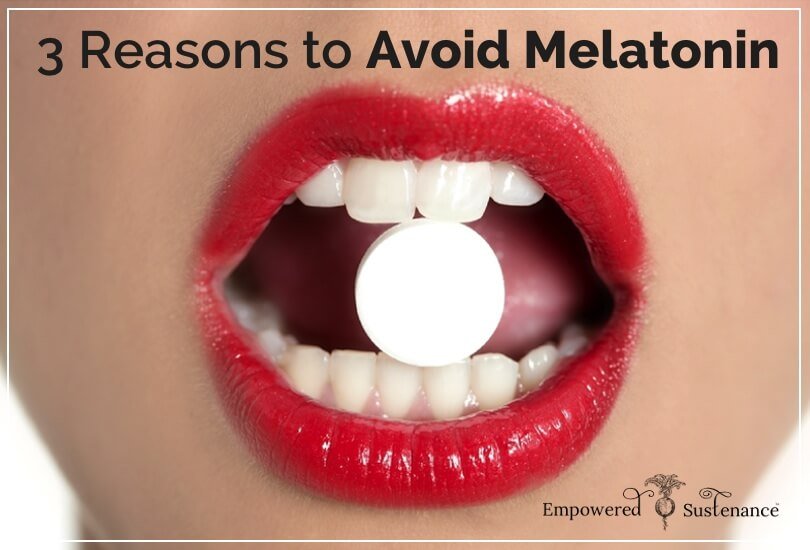 Getting the proper amount and a proper quality of sleep is so important when it comes to maintaining our health. Without sleep, and good sleep, our bodies do not have the opportunity to rest and regroup, and there are a variety of other functions that simply cannot take place apart from sleep. However, although sleep is such an integral part of our health, there are so many of us who struggle with sleep for a slew of reasons. Stress, poor diet, too much screen time before bed, and small children are just a few examples of what can keep us up at night and prevent us from getting a good night's sleep.
Because a lack of sleep can be so frustrating, many people desperately turn to sleep aids for assistance. Melatonin is perhaps one of the most popular sleep aids. It is trumpeted as a "natural" supplement; but it is neither natural nor is it safe. This post explores the main reasons to avoid melatonin when it comes to fixing insomnia. If you struggle to get good sleep, try other, truly natural solutions.
""Melatonin is not a sleeping pill"
That's what Dr. Michael Breus, "The Sleep Doctor," tells patents who inquire about this popular supplement. Like me and many other practitioners who have researched this supplement, Dr. Breus believes melatonin is a bad answer to insomnia.
Dr. Breus, who was featured on the Dr. Oz show to discuss the problems with melatonin, explains,
This is the really important thing you should understand about melatonin: Melatonin is a sleep and body clock regulator – NOT a sleep initiator. Melatonin works with your biological clock by telling your brain when it is time to sleep. Melatonin does not increase your sleep drive or need for sleep. (Read more)
Why melatonin is bad for you?
"If it's all natural, why is melatonin bad for you?" my mom asked, when I expressed my concern with this supplement after learning that she takes it on-and-off for her insomnia. "Boy, have I got a blog post for you!" I replied.
In short, melatonin is a hormone that correlates with sleep cycles and plays beneficial roles in numerous physiological functions. But melatonin supplements are neither a safe, natural nor effective solution to insomnia.
1. Melatonin supplements are hormone therapy
Are you taking melatonin? Then you are using hormone therapy. Hormone therapy is a very complicated topic ripe with detrimental health consequences when used carelessly. Often, hormone therapy is the "easy answer" to hormone imbalance and so the layperson, under the guidance of a practitioner or not, will reach for this answer. One common example of hormone therapy is progesterone cream. Melatonin is another.
The popularity of melatonin greatly worries me because hormone therapy should be approached with due caution, wisdom and knowledge. The practitioners whom I most respect use hormone therapy with the most extreme reservation, always preferring to use diet/lifestyle/supplement changes before using hormone therapy only when necessary as a last resort. Why? More often than not, including the case of melatonin, hormone therapy can do more harm than good. 
This is the analogy I use when explaining the potential consequences of hormone therapy:
Most of the hormones in the body are governed by negative feedback, which works like your household thermostat. Say you set your thermostat to 72 degrees and the room temperature is 69 degrees. The heater kicks in to warm the room up. When the temperature reaches 72 degrees, the heat shuts off until the temperature drops again.

Administering hormones can actually shut off our body's hormonal negative feedback loop. It's like heating a room by a space heater and the furnace shuts off because it isn't needed."