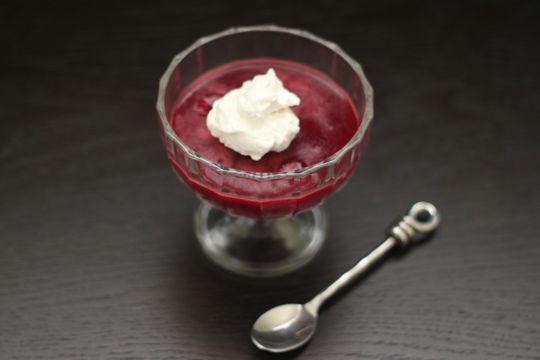 Jello is a favorite treat of kids, but the store-bought products are high in artificial sugar and other non-ingredients. But this beet and berry jello is made with healthful ingredients like fresh beets, berries, and gelatin. So not only will your kids (and you!) love the taste, but they will also be consuming nutritious foods!
"Whether it's a treat for your kids or a way to satisfy your own craving for retro dessert, making homemade jello is a fun experiment. The recipe couldn't be easier – add 1 tablespoon of unflavored, powdered gelatin to 1 cup cold liquid then stir in 1/3 cup boiling water and chill until firm. The experimental part comes in when we start talking about flavor.
One hundred percent fruit juice is the easiest option to use as a cold liquid, and offers plenty of different flavors, but watch out for the sugar. Get a little experimental by blending in tea to cut down on the sugar level. Herbal teas can add intriguing, and kid friendly, flavor. Or, you can get really experimental and blend up some beets and berries until you have a slightly sweet, bright-hued juice full of antioxidants, folate, vitamin C, and potassium and turn that into homemade jello.
Beet and berry jello is lightly sweet with just a hint of earthiness from the beets and lots of fruity, berry flavor. Put a generous dollop of unsweetened, whipped cream or coconut cream on top and you'll have a fun, full-fledged dessert.
A word about unflavored, powdered gelatin: Ideally, the best way to add gelatin to your diet is through bone broth and gelatin-rich cuts of meat. However, powdered gelatin is really convenient and can be added to just about anything, not just homemade jello. Add it to soup broth, stews and smoothies or make salmon mousse."