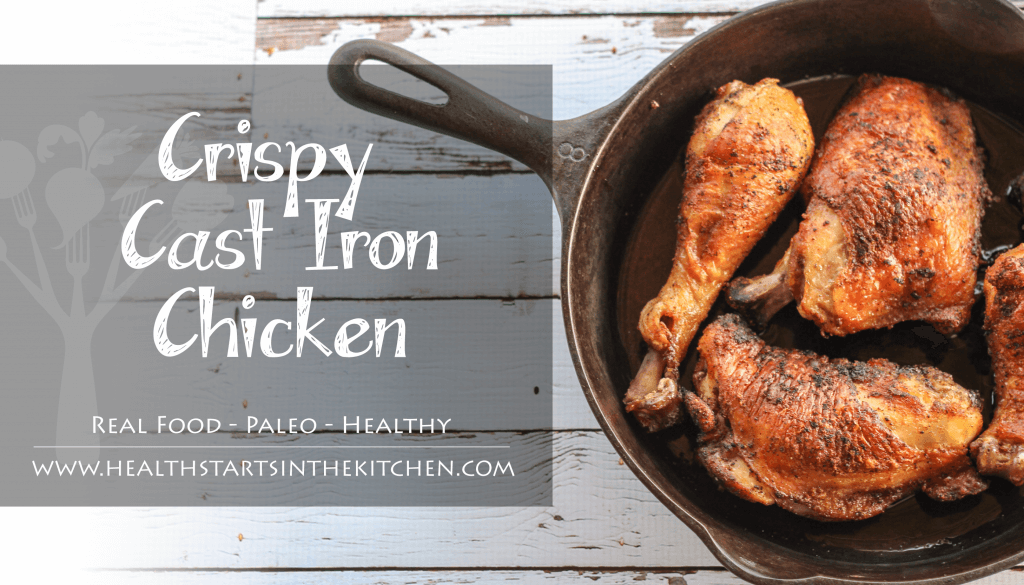 Sometimes weeknight meals are the most difficult to throw together. Everyone is tired, and coming up with a creative meal that isn't too strenuous and will still taste good seems like an unconquerable task. This crispy cast iron chicken is the solution. Made with only good chicken, seasoned salt, and coconut oil (or butter) and simply cooked on the stovetop and oven, this meal does not require much energy or effort on your part in order to create a meal the whole family will love!
"Without a doubt, this is our FAVORITE way to eat chicken! I make my Crispy Cast Iron Chicken several times a month, it's such an quick and easy meal – that tastes AMAZING!
We raise our own chickens (for meat & eggs) so chicken is a big part of our diet.. However.. my husband wasn't big fan of chicken (strange, huh?!) until I started making my Crispy Cast Iron Chicken! He's even said it tastes BETTER than fast food breaded & fried chicken… and there's no breading, nothing fancy or difficult.
I want to STRESS the importance of buying local, pasture raised, organic chicken at all times. Not only is it HEALTHIER for you & your FAMILY, it's also better for the chickens, the planet and it's supporting your local farmers. OH! and it is the #1 key to amazing tasting chicken!
Very liberally season up those local, pastured, organic chicken thighs with my seasoned salt – and let them sit for at least 15 minutes but you can feel free season them up a couple days ahead and keep 'em chilling in the fridge."