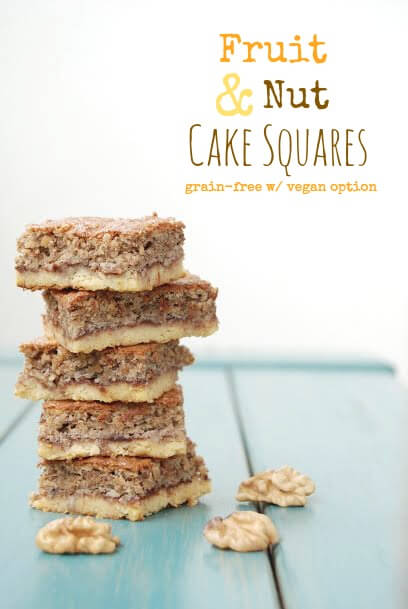 If you're longing for something delightfully sweet yet light at the same time, these fruit and nut cake squares are for you! Made with a base of coconut flour and sweetened with honey, these grain free cake squares are the perfect snack, dessert, or pot-luck dish!
"One of the benefits of living in a foreign country is the exposure to new foods, or more fascinating, new combinations of ingredients I already know.
For example, Slovaks eat their french toast as savoury, with ketchup and tartar sauce and lunch meat.
When I tell people we eat it sweet, with whipping cream and maple syrup (or what have you), they make a face that says "Whaaaat?"
Or when I make a beef stew and Slovaks say "This is so delicious! I've never had this before!"
Every single ingredient in a regular beef stew is a normal ingredient in Slovakia, they've just never put it together that way before.
One combination I haven't gotten used to is sweet pasta. If it's homemade potato pasta, it's delicious.
With regular spaghetti noodles–well–I just haven't quite gotten there.
Think pasta–with jam! After delivering twins (two years ago as I write!), I got a plate of spaghetti, poppy seeds, and a pile of icing sugar at the hospital. Fortunately I had brought my own vittals too :).
Anyway, that's how I learned this apricot walnut squares recipe. It's not a weird food combination (like the sweet spaghetti), but it's a new recipe combo for me.
These Fruit & Nut Cake Bars (made with jam and walnuts here) are as common here in Slovakia as chocolate cake is in North America.
It's a staple of my mother-in-law's, but I've revised it to be free of gluten, grains, refined sugars, and dairy.
The original is one of my husband's favourites, and he said this revision does them justice. I may have eaten the whole pan of the first attempt on my own, they are that good (well, when I made them, everyone else in the family had a stomach bug–but still).
If you don't have apricot butter or jam, any fruit jam/puree will be delicious, though it's better on the thicker side."