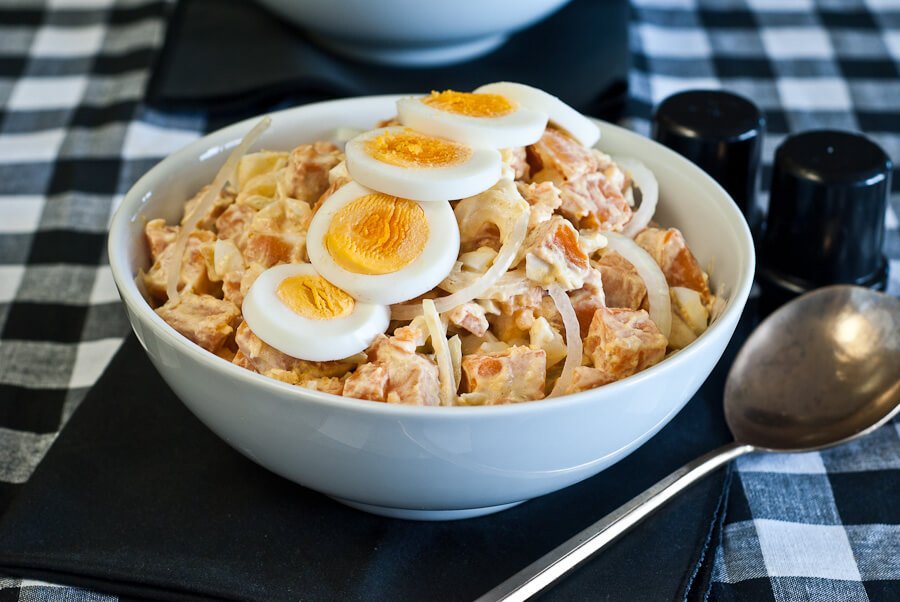 Using sweet potatoes in place of regular potatoes in a potato salad is a clever way to make that delicious dish a healthy one. This sweet potato salad recipe brings a kick of heat to balance the natural sweetness of the potatoes. Tossed in a yogurt sauce consisting of honey, full-fat yogurt, ginger, garlic, and spices and topped with hard boiled eggs, this curried sweet potato salad serves as a mouthwatering side dish OR a main course 😉
"Curried Sweet Potato Salad is a fabulously flavorful spin on a classic potato salad. Made with the more nutrient-rich sweet potato and paired with a savory curried yogurt dressing, this potato salad is both nutritious and tasty.
If you know me at all, you know that I'm no fan of preparing sweet potatoes in gooey, sweet dishes. Rather, I enjoy making a Savory Sweet Potato with Bacon and Swiss Casserole, Mouthwatering Sweet Potato Latkes, and even Sweet Potato Fries with Chipotle & Cilantro Mayo.
I find the combination of sweet and savory undeniably addictive, and this Curried Sweet Potato Salad is no different."