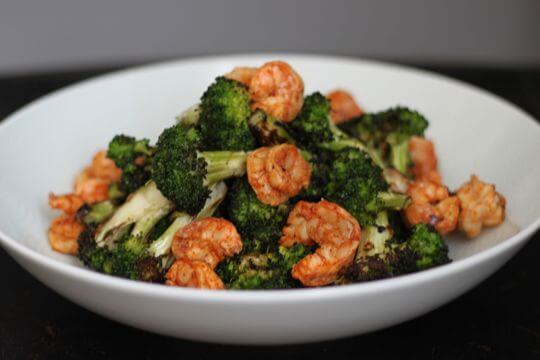 If you've never grilled broccoli before, you're missing out. With a little bit of char, grilled broccoli has a unique flavor perfect for the summertime. Pair broccoli with juicy fresh shrimp, olive oil, chili powder, garlic, and lime juice, and you have a simple yet filling meal. This grilled broccoli and shrimp salad is kid-friendly and can duplicate easily to feed a larger crowd.
"After grilling broccoli once, you're going to wonder why you've never thought of cooking it this way before. Charred and crispy around the edges, tender with just a little bit of crunch, grilling brings out the best in broccoli. Toss grilled broccoli in a big bowl with lime and chili grilled shrimp and you've got one amazing salad.
Grilled broccoli doesn't taste all that much different than broccoli roasted in a high-heat oven, but it cooks faster. The bright green color and a bit of crunch remain intact. Plus, who wants to crank the oven to 450 ºF in the summer?
Brassicas such as broccoli, and other sulfur-rich vegetables, have potent and beneficial organosulfur compounds. The more ways you can find to eat and enjoy them, the better. If shrimp isn't your thing, then pair this broccoli with grilled lime and chili marinated wild salmon or a big, juicy steak."