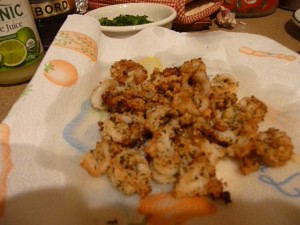 Calamari is a delectable seafood dish, and is often served as an appetizer or at parties. But the calamari served in restaurants tend to be deep fried in gross vegetables oils. In this homemade calamari recipe, coconut oil is used for frying instead. Enjoy!
"Calamari is a great and tasty snack to enjoy when eating out. The main problem with consuming this is that the calamari are deep fried in rancid vegetable oils. The sauce paired with it is typically aioli, with a mayonnaise base. The mayonnaise is also made with rancid vegetable oils. It is best to make these yourself at home. It is very simple to do.
Garlic Aioli Ingredients
1/2 cup homemade mayonnaise
2 cloves minced raw garlic
1 – 1 1/2 tbsp lemon juice
1/2 tsp real salt
Freshly ground black pepper, or Organic Sea Kelp Delight Seasoning
Directions: 
Mix all ingredients together and store in fridge until ready to serve.
Calamari Ingredients
1/2 cup coconut flour
1 cup freshly ground soaked almond flour
*If you are not avoiding grains, you can use 1 – 1 1/2 cups of grain flour of choice instead of almond/coconut flour mixture (preferably sprouted)
2 tbsp dried parsley
2 tsp salt
Freshly ground black pepper or Organic Sea Kelp Delight Seasoning
3 eggs (preferably pastured)
1 lb squid (try to get it cleaned at the store ahead of time because the ink can be messy)
Coconut oil or animal fat such as tallow, lard or duck fat to fry
Directions:
Heat oil on a medium-low to medium heat on stove. Watch carefully. Cut up squid into 1/3 – 1/2 inch rings. Beat eggs in a separate bowl. Mix all dry ingredients together in a separate bowl. Dip squid in batches into the egg mixture, followed by the breading mixture."