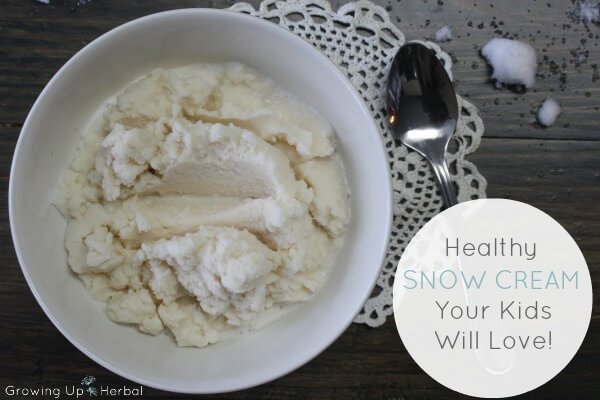 Ah, snow cream. The thought of this winter delight takes me straight back to childhood and snow days off from school. I remember searching tirelessly for the best clean snow outside, and then rushing in to mix it with some milk to make snow cream. Now, this snow cream recipe from Meagan is on a whole different level. Not only will it taste delicious from flavors like maple syrup and vanilla, but it is also actually healthy because of the syrup, the raw milk, and the heavy cream. Yum! Now excuse me while I go search the remnants of snow outside for a clean patch…
"Living in the mountains of East Tennessee can sure bring some doozies of snow storms our way. This past one we got left us with about 8 inches of snow on our mountain, and many without power. Sure we were snowed in for a bit, but our woodstove and propane cookstove kept us warm and well-fed.
Thankfully, we had other great things to keep us busy and entertained. Besides our daily homeschool work and my blogging activities, it was a great time to settle down and have some extra family fun in the snow. Trekking through the snow covered woods, sledding down our crazy steep driveway, and reading some great stories while snuggling on the couch together were just a few of the things we did.
Another one of our favorite things to do when it snows enough is to make snow cream. Snow cream is usually made with white sugar to make it extra sweet, but since I've buckled down more and the man and I've decided our family is sticking with our "real food" convictions, I've had to tweak recipes here and there which surprisingly isn't very hard.
Today, I'm gonna share our new "healthy" snow cream recipe with you in case you ever get enough snow your way, and you and your little ones have a hankering for a yummy sweet treat!"