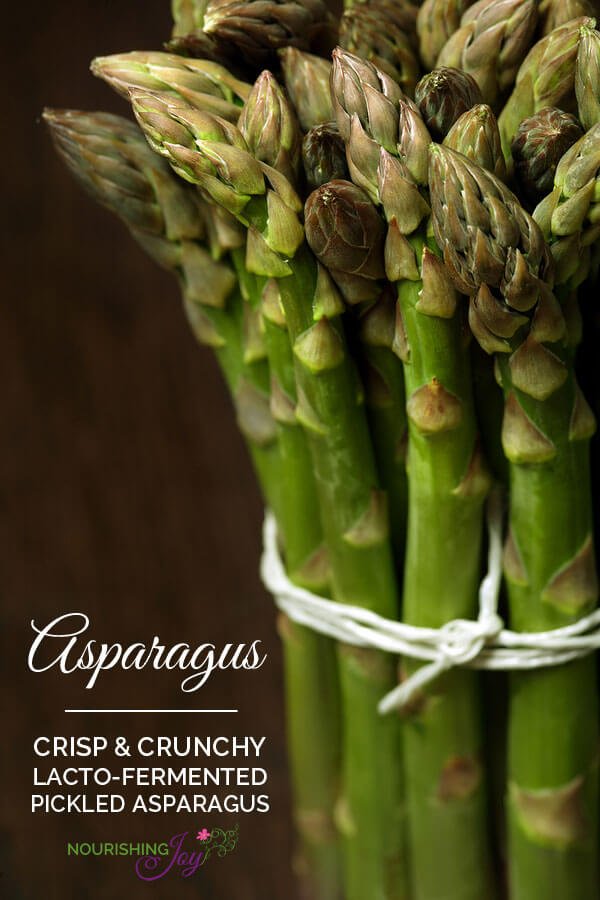 Asparagus is a unique and nutritious vegetable that is high in Vitamins K and A, folate, and minerals. Asparagus is delicious baked, grilled, or steamed; but when you're looking for another way to enjoy this veggie, try this lacto-fermented pickled asparagus recipe. The pickling process grants the asparagus a different flavor that will have you reaching for more. Paired with garlic, sauerkraut brine, and numerous spices, the asparagus not only tastes great but gains added nutritional benefits as well!
"It's asparagus season – the season that declares the winter has officially gone and the earthy freshness of spring has come, which is to be celebrated with abundance.
Asparagus is one of those plants that likes to celebrate in full style. Once a stalk starts producing, it needs to be trimmed often – sometimes daily – in order to keep producing, so that tender sweetness of fresh picked asparagus can and should be enjoyed fervently through the few weeks that asparagus has its run.
It's also a deeply nourishing plant. It's high in Vitamins K and A, as well as folate, and rich in minerals, since its roots tend to go deep, thus drawing nutrients both into its sprout (the stalk we eat) and the oft-depleted topsoil, making it both a nourishing plant to consume and a plant that helps nourish the other plants around it. (Ah, the intersection of intricate symbiotic biosystems…. permaculture, how I love thee….)
However, there can come a time when you've just had too much fresh asparagus and the delight you had at the beginning of the season has waned to more of a drudgery. And sometimes you just have too much asparagus – there's merely no way to work your way through it all, especially since it really does taste best on the day it's picked. And then, of course, if you're anything like me, you just like a good pickle and could eat your way through an entire jar all by yourself all in one sitting.
Whatever your reason, these traditionally pickled asparagus spears are a great way to preserve spring's abundance, add a lovely probiotic boost to your diet, and are just downright delicious."