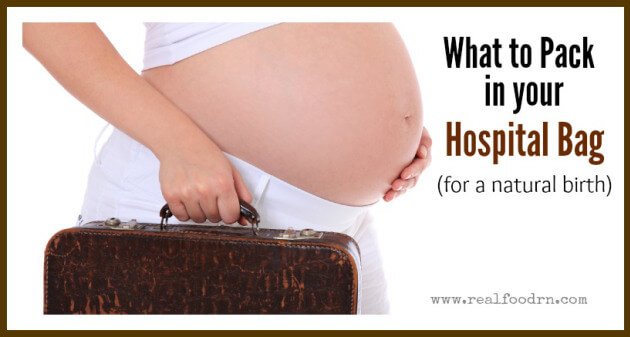 Bringing a new child into the world is such an exciting feat. A woman spends the nine months of her pregnancy preparing for the birth of her baby: physically, emotionally, spiritually, and mentally. A mom who is planning for a natural birth has probably been utilizing her labor aides and including immediate skin-to-skin contact in her birth plan. Then, as her due date begins to approach, her attention turns toward preparing necessary items. If a woman is giving birth at a hospital, this means she's packing her bags. but what exactly does someone who is planning for a natural birth bring to a hospital? This post gives a detailed list of what to include in your natural birth hospital bag. Happy packing, mamas!
"Everything but the kitchen sink. That's what I bring with me everywhere! My Grandma always said "you never know when you might get stuck somewhere without clean underpants". Very true Grannie. So, when it comes to packing the bag to bring with me to the hospital to have a baby, you better believe that I am prepared!
I seriously wanted to have home births, no packing required, but my husband insisted that we go to the hospital. He explained that the labor was mine and I had full control of how things go, if he can just make the request to have it in a hospital setting — in case something goes wrong. As much as I wanted to protest, I honored his request because these are his babies too. So, I chose an amazing hospital that has a midwife group and is entirely open to any and all granola mama requests. Mama and Daddy are happy. I still plan to have the most natural birth possible, as I did with my first two deliveries. No medical intervention. This is why I am bringing my arsenal of goodies to help bring me and my precious baby through an amazing natural labor. I have had so many questions about this topic that I decided to put together a post about what to pack in your hospital bag for a natural labor, and I threw in a short video so you can see all the goodies too.
Here is my list:
Journal
Baby Name Book
Cloth Diapers
Muslin Blankets
Hazelnut Butter Packets
Coconut water
Slippers and Socks
Pajamas
Fiddlebumps Goodies: Healing Balm, Belly Balm, Diaper Cream, Chapstick, Baby Balm, Nursing Cream
Natural Rubber Pacifier
Warm blanket (for the trip home)
Homeopathic remedy — Caulophyllum: This remedy is often helpful to women with a history of irregular periods, difficulty becoming pregnant, or slow childbirth due to weak muscle tone of the uterus. Symptoms include discomfort during periods and a heavy flow of blood or other discharge. Drawing pains may be felt in the pelvic region, thighs, and legs. Stiffness or arthritis, especially in the finger-joints, often is seen when this remedy is needed. (source)
Abdominal Binder
Chocolates (for the hard working Nurses!) — note: the Dove chocolates I show in the video were a result of my not being specific enough with my grocery list for the hubby. He thought those were okay because they said "dark chocolate" on them. I also picked up some of these from my co-op.
Etsy Nursing Hat and Baby Hats"