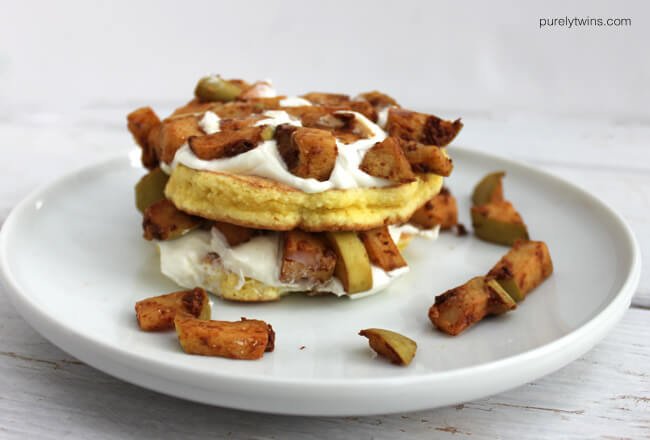 In the neighborhood where I spent my childhood, we would have a big block party every year on the 4th of July. One year, I remember approaching a table that was full of apple pies. They were all sorts of kinds and shapes and sizes, and I remember being very impressed, even as a 9 year-old. Two things that Americans love, apple pie and pancakes, collide in this recipe that can be made as a single serving! We love creative breakfast dishes like green chile breakfast casserole and cookie dough chocolate pancakes.
Breakfast is an important meal of the day, requiring good protein and fats to fuel us throughout our activities. But sometimes, breakfast can become a bit mundane and boring. These apple pie pancakes are the perfect remedy. Made with few ingredients, they are ready in a short amount of time and provide a unique and varied flavor along with protein and fat. Plus, you'll love the way they smell 😉
"Are you ready to make some pancakes?
Come join us in our kitchen.
A healthy yummy breakfast made in under 5 minutes from just a few ingredients.
We love apples. Well let us back up for a moment. Michelle has always loved apples since we were kids. Lori had to work her way up to like apples. In college is when she finally started to enjoy them. We would have one apple a day with almond butter just about every day during college either with our breakfast or afternoon snack. Mmmm, maybe we should of added almond butter to this apple pie stack!
This recipe for apple pie pancakes is:
easy to make
made from a few ingredients
can be made dairy-free
healthy way to start the day
gluten, grain, and soy free
has no added sugars
and delicious
You might find you no longer need a slice of apple pie with ice cream. These apple pie pancakes could be your quick fix when temptation strikes. Well it sometimes works for us, haha sometimes you just need a good slice of apple pie.
This recipe was inspired from our single serving strawberry shortcake recipe.
Now that apples are in season and pancakes are always a good decision, you can enjoy them together for a healthy fall inspired breakfast!
You want to know a little secret?
You can enjoy these pancakes any time of the day. Yep, you can have them for breakfast, as a snack or dessert!
And as we mentioned above add a layer of almond butter for a healthy fat and protein boost!"