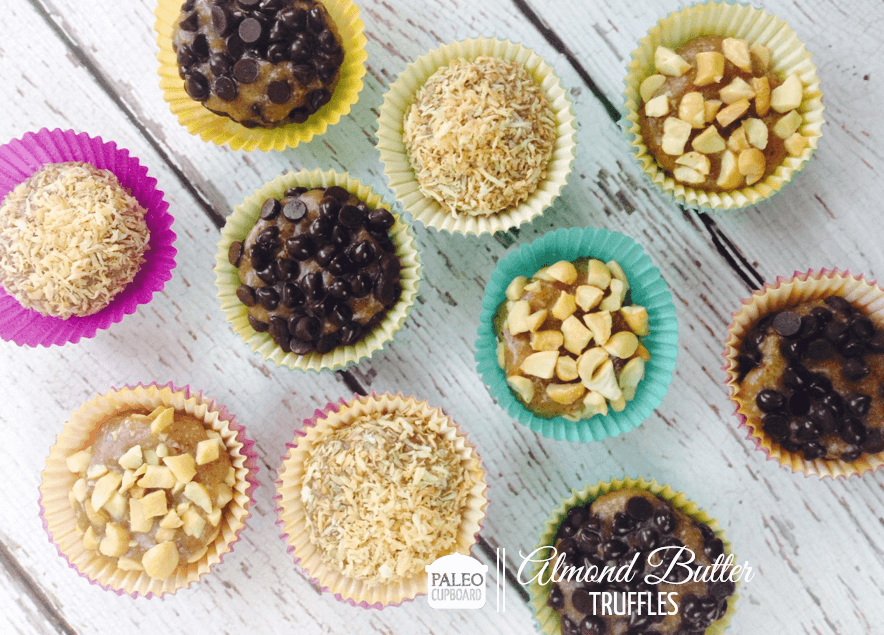 Truffles are a fantastic little treat. These paleo-friendly truffles are made with almond butter, honey, and coconut oil, making them not only all-natural, but also packs some health benefits as well! This recipe is fun because you can get creative with the toppings: chocolate chips, coconut, nuts, whatever you fancy!
"I saw a recipe for truffles in a magazine the other day, and I suddenly had a huge craving for them. I knew I had to rush home and try and create something similar that was paleo friendly. I rarely enjoy sweets, but these were so yummy that I couldn't stop nibbling on them, and tasted like cookie dough. I rolled mine in mini chocolate chips, chopped nuts and toasted coconut, but you can get creative with  your toppings. I tried a few that were rolled in both the nuts and the chocolate chops and those were my favorite. For this recipe I used Enjoy Life Mini Chocolate Chips. They are not 100% paleo but they are gluten, dairy and soy free.
The great thing about this recipe is that you probably have most of these ingredients in your cupboard already. The truffles only take a few minutes to make once they have set, and you can store them for about a week in your fridge. You can also freeze them (just give them time to thaw out before eating).
Enjoy!"