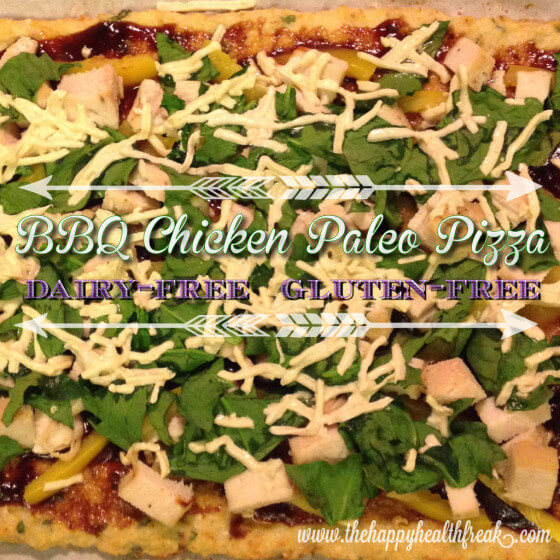 Nothing is quite as satisfying on a Friday night as pizza. Especially if it's BBQ chicken pizza 😉 This paleo version is made with gluten-free BBQ sauce, almond flour, and is packed with protein from the chicken. Feel free to alter the toppings as you like as well!
"I have been craving pizza like mad lately and I finally gave in, but I wanted to make sure I still stuck within the paleo guidelines. This crust is similar to the cauliflower pizza crust I posted a while ago, but I made a few modifications such as adding almond flour which I found really helped hold the crust together better than the previous recipe.
Feel free to top this crust with your favourite toppings. I topped mine with gluten-free BBQ sauce, yellow peppers, onions, diced chicken, spinach and Daiya. Technically, I am not supposed to have cheese but at least I kept it dairy free! You could easily make this a veggie pizza by leaving out the chicken.
This pizza crust has 10g of protein per serving, top that with some chicken and you have a protein-packed dinner!
Serves 3 – If you're serving more than 2 people, I would double the recipe.
2 cups raw cauliflower, grated
1/2 cup almond flour
2 eggs
1 Tbsp olive oil or coconut oil
2 cloves of garlic, minced
S&P
Your favourite spices. I added 1 Tbsp of fresh basil and onion powder.
Your favorite toppings
Preheat your oven to 450F. Using a cheese grater, grate 2 cups of raw cauliflower or about half a head. Put the cauliflower in a microwave safe bowl and microwave for about 7 minutes. Note: the amount of cauliflower will reduce once you cook it, that's ok!  Set aside to cool. While the cauliflower is cooling, gather your veggies/toppings and chop them up."