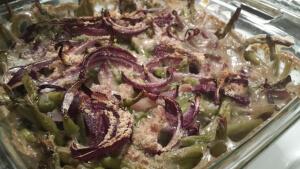 Green bean casserole is a family-favorite side dish, especially around the holidays. Unfortunately, the typical green bean casserole is made with commercial cream of mushroom soup, which is full of bizarre ingredients. This gluten-free version of green bean casserole is made with a homemade cream of mushroom soup with a grass-fed butter base. It is just as tasty, and you can feel good eating it and serving it to your loved ones!
"Green Bean Casserole is one of my favorite dishes on Thanksgiving. Once I eliminated gluten from my diet, it was one of those foods I would use to convince myself, "oh, it's just once or twice per year… go ahead! Indulge. It won't be that bad…" Only I would eat way more than 1 serving (because who can stop?!) and feel ill for a few days following.
Cream of mushroom soup is actually quite easy to make. Surprisingly easy. Especially if you plan to use it in a casserole dish like green bean casserole.
Cream of Mushroom Soup
Ingredients
1 quart raw mushrooms, cleaned
1 shallot, diced
2 Tbsp pastured butter or ghee
1 clove garlic, pressed and chopped
1 Tbsp parsley (I always use fresh, but dried will do just fine)
1/2 cup either chicken stock or bone broth
1/2 cup heavy cream
1/2 tsp sea salt
Black pepper, to taste
2 tsp arrowroot powder
Instructions
In a deep frying pan or sauce pan, saute the mushrooms, shallot and garlic in your butter or ghee over medium heat
Once they begin to soften and become translucent, add the parsley
Add 1/2 cup chicken stock or bone broth, mix well
Add 1/2 cup heavy cream"