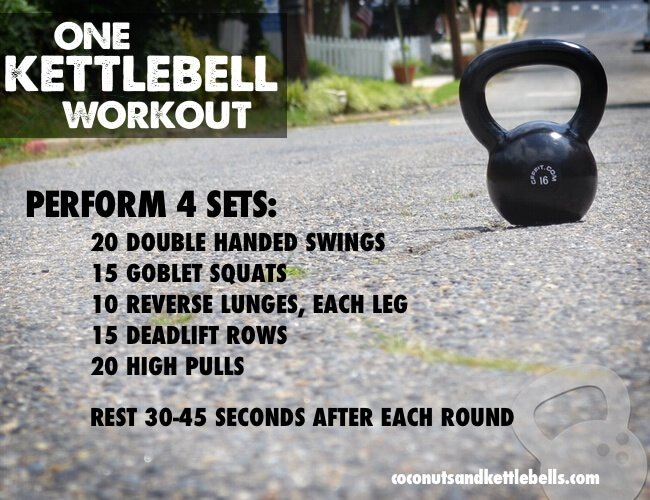 Perhaps the most used excuse to avoid cultivating our physical fitness is the fact that we're too busy. We put off getting into an exercise routine because "there's just so much going on right now". We vow to start exercising next week or next month. But then next week and next month roll around and we still find ourselves as busy as we were before. The fact of the matter is that we are always going to be busy, and if we don't take the time in the present moment to focus on our health and fitness, we may never do it.
Enter kettlebells. Kettlebells are a fantastic way to gain strength and endurance in a short amount of time. This quick kettlebell workout will engage your entire body and exercise your core to promote overall strength. The short but intense sets ensure your cardio upkeep and your convenience.
"A few years back, a couple of friends went in together and got Mr. Coconuts and I a set of four high-quality kettlebells as a wedding present.
I know, right? Best. gift. ever.
Since then, we've had a blast using our kettlebells for various types of workouts we can easily do in our house, outside in our front yard – and even on road trips.
If you're short on time, or don't have the financial flexibility to join a gym – I highly recommend securing a set of good kettlebells to build your fitness. They can be used for metabolic conditioning, strength training, and interval sessions – and you can knock out a seriously awesome workout in as little as 5 minutes. I also recommend using a mat to help keep your kettlebell from being scratched or damaging the floor, and a little bit of hand chalk if you have a "healthy" sweat rate like me.
We got our set of kettlebells from CFF and we love them. You can also purchase a variety of quality kettlebells from CAP barbell which are pretty affordable and ship for free.
One Kettlebell Workout
Instructions: For this workout, you'll be using one kettlebell for all exercises throughout the entire workout. Pick a weight that you can move with steady speed – yet will still challenge your strength. Please watch the videos to make sure you are performing the exercises correctly, and pay special attention to your form. If you feel like you are losing form on a movement, drop to a lower weight kettlebell."