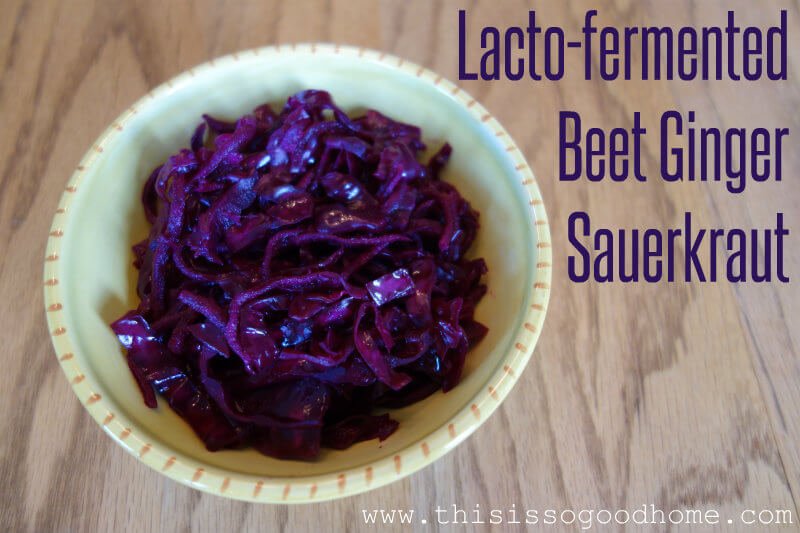 I've found that the more fermented food I eat, the more I want it. Fermented food is kind of weird at first, right? It smells funny, sometimes looks funny, and you may be shocked at everything you can actually ferment (like salsa and turmeric). So when I first dove into this fermented foods thing, I was a bit skeptical as to how I would like it. Once I got used to the unique flavor, I discovered that I just wanted more and more of it! I was thankful that I actually enjoyed the taste of fermented foods because of their vast benefits.
This recipe for fermented beet ginger sauerkraut is an awesome twist on the traditional sauerkraut. The flavors of beet and ginger are very complimentary and the cabbage adds a great pop of color for visual appeal. You can eat this sauerkraut on its own or atop salad, chicken, eggs, or burgers!
"I've been making homemade sauerkraut and other veggie ferments for almost 5 years now. I love the fizzy and zippy taste you can only get from homemade ferments. Although I have noticed more lactofermented krauts and veggies popping up on refrigerated store shelves, I have a really hard time dropping 8+ dollars on a quart! I can do it at home for a fraction of the price and adjust the flavors to my liking.
When I first started out, I used Nourishing Traditions as my guideline. I fermented in Mason jars for years, but truthfully it always made me a little nervous. On a few occasions, I had mold develop on the top of the veggies and although I've read that you can skim it off and still consume the ferment, I had a hard time getting past the thought of mold on my food. Plus, I have a hubby that deals with seasonal allergies and didn't like the idea of him consuming any of these bad guys. As I dug a little deeper, I found that even after skimming, some mold may remain within the ferment.
The last time I used Mason jars, I ended up with a very smelly, rotten ferment. I used the same method I had used for years, but something went wrong. This sauerkraut was definitely bad – the smell was terrible (and not in a stinky sauerkraut kinda way). I absolutely HATE wasting food that I've spent my time and hard earned money on, so I decided it was time to invest in some anaerobic fermenting vessels."