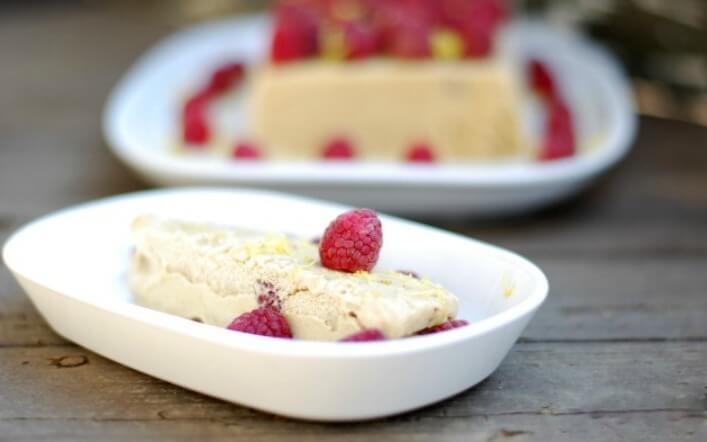 "Semifreddo" is an Italian word meaning "half cold". So this dessert resembles an ice cream cake but is made with a custard mixture. And although it looks beautifully complicated, it is simple to make! This raspberry lemon semifreddo is made with coconut milk, coconut sugar, eggs, lemon, and fresh raspberries for a light and delicious medley of cooling flavors.
"There's something about ice cream cake that draws a crowd
I don't know if it's the ice cream part or the cake part, but if you're a mama and want a piece, you had better get yours first!
Semifreddo is Italian for "half cold." To make a semifreddo, you simply freeze a custard mixture and then let it thaw out a little before serving…so it's semi-frozen when you eat it. The result is a deliciously chilled, custardy creation that's perfect for any occasion. They're very easy to make – with just a few ingredients and a little imagination you can put almost any flavor combination together.
This raspberry lemon version is made with coconut milk so it's dairy free. The coconut milk can be replaced with whole, organic milk (preferably raw) and the recipe will still turn out amazing!"