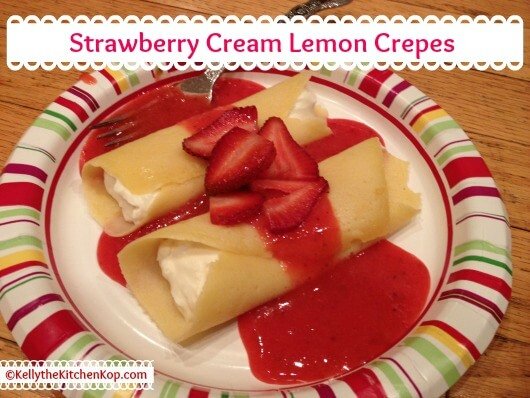 As Spring finally approaches, many of us are looking for lighter treats like fresh, seasonal fruit. These strawberry and lemon cream crepes are refreshing and just sweet enough! Made with real ingredients like grass-fed butter, natural sugar, and real cream, these crepes are not only enjoyably tasty, but they can provide benefit to your diet as well.
"Strawberry Lemon Cream Crepes
These strawberry lemon cream crepes are full of light summery flavors you'll love, even if summer is still a few months off, and especially if winter where you are has been as long and hard as ours has been here in Michigan.
If you have one of my favorite pans it'll make frying the crepes go much faster because you can get a lot more going at once. Click here to check out my favorite pan.
I pulled a few different recipes together to come up with this one, let me know if you like it. Don't forget to look over the extra pictures below the recipe.

This makes about 40 crepes and serves about 20. I made a lot since we were having friends over. Obviously, cut these amounts if you're serving fewer people."