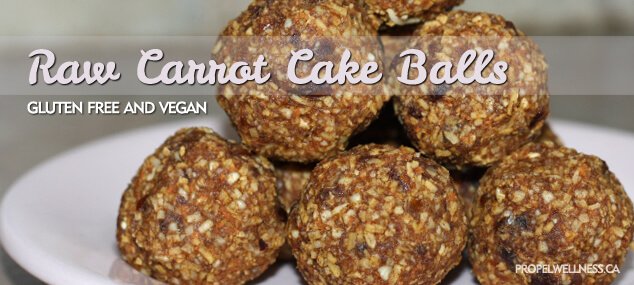 These gluten free carrot cake bars are similar to a Larabar in texture and consistency. They are made with fresh ingredients like nuts, dates, and coconut, with a taste like carrot cake thanks to flavorful spices like cinnamon and nutmeg. These carrot cake balls are easy to store and easy to eat, especially on the go!
"These little carrot cake Larabar style balls have a fruit and nut base, with the addition of fresh carrot, coconut and cinnamon and nutmeg. All the flavours of my favourite dessert, carrot cake, in a sweet little raw and gluten free ball. The best part? They are super easy to make. My older kids can even make them. Healthy, money saving and a kid friendly recipe, what's not to love?!
If your dates are really dry, soak them in some hot water for a few minutes to plump them up a bit (drain first). Experiment with combinations of nuts; adding some walnuts give them more of a carrot cake flavour, but I prefer the texture of cashews. Try some of each and see what you prefer, and make this recipe your own.
Enjoy!"