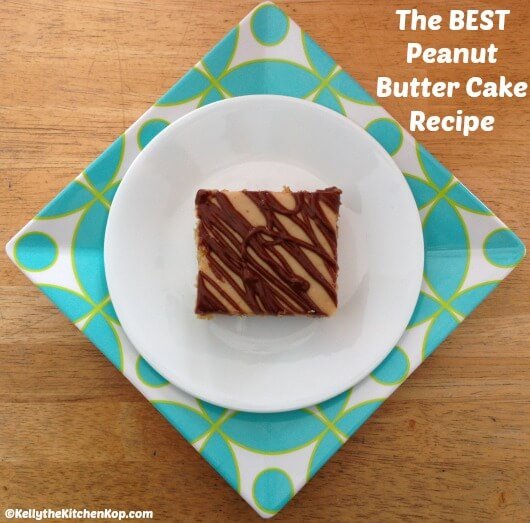 Ahhh, peanut butter cake. What a delicious treat! Because of its high sugar content, it's not an everyday dish, but is perfect for special occasions. This natural peanut butter cake is made with nut butter, grass-fed butter, and organic sugar.
"The BEST Peanut Butter Cake
Mr. and Mrs. Zimmerman were neighbor friends with my parents growing up, and we all looked forward to Mrs. Zimmerman's peanut butter cake when someone died or at potlucks and other occasions. They've both passed away now, God bless their souls, but thankfully she shared this recipe with my Mom many years ago.
Scroll down for all of the pictures, and yes, it's as moist and amazingly tasty as it looks — it melts in your mouth!
Concerned about too much sugar? Good, you should be, but this is a once-in-a-while treat, and homemade — the only way to eat desserts, in my opinion. Plus the butter in the recipe helps, believe it or not. Click to read more about mitigating the effects of sugar in our bodies and helping to lower the glycemic index in foods. (Or click for more homemade dessert recipes.)
And by the way, one of best things about homeschooling is that my kids aren't getting crap handed to them at school every day of the week, so an occasional treat around here doesn't bother me so much. (Click for my posts about homeschooling.)"