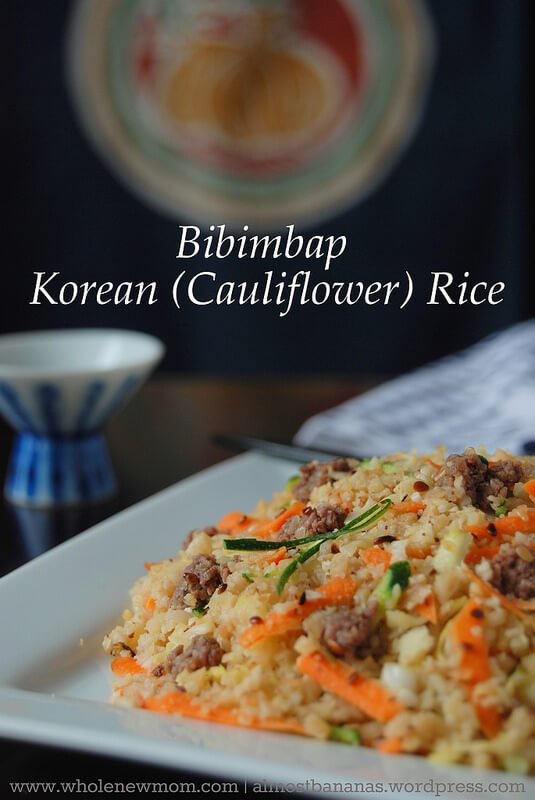 Traditional Korean fried rice may look a little different than this paleo version, but the taste is impressively similar. Made with numerous vegetables, cauliflower (instead of rice), coconut aminos, and ground meat, this grain free Korean fried rice is a meal in and of itself and is kid-approved!
"This summer, while visiting back home, I reconnected with a dear friend.
Her husband is Korean and when he made us bibimbap, our family had a new favourite food.
Bibimbap means 'mixed rice' and is one of those dishes that has much room for variation.
I shouldn't really title this bibimbap though- any Korean person would look at this and declare
"THAT is not bibimbap."
– There is no guchujung, red chili paste; the bought paste is full of not-real ingredients and the fermented homemade version requires more dedication than I have.
– The vegetables should be julienned; I have neither a julienner nor extra time to cut vegetables so finely so I grated them.
– Sesame seed oil is not really available where I live, so I used sesame seeds.
I wanted people to be able to make this without having to run to a specialty store. Technically this is bibimbap inspired, but that makes for a rather unwieldy title.
Traditionally bibimbap is made with short grain rice but I've also made it with cauliflower to make it grain free.
Truth be told, it's better with rice – in fact, it's downright addictive. But it's also very good with cauliflower 'rice', and that's what I used for the photos.
Notes: Besides the vegetables that I listed below, I've also added chopped lettuce, radish, and bean sprouts.
The meat can be substituted with a fried egg or two per person for a vegetarian version.
Any ground meat will work, I used beef but pork or even chicken will fit. If you need to be soy free, feel free to substitute coconut aminos + salt for the tamari. The best fat to use is butter, for that nutty flavour, however if you can't eat dairy, olive oil or baking coconut oil will do."