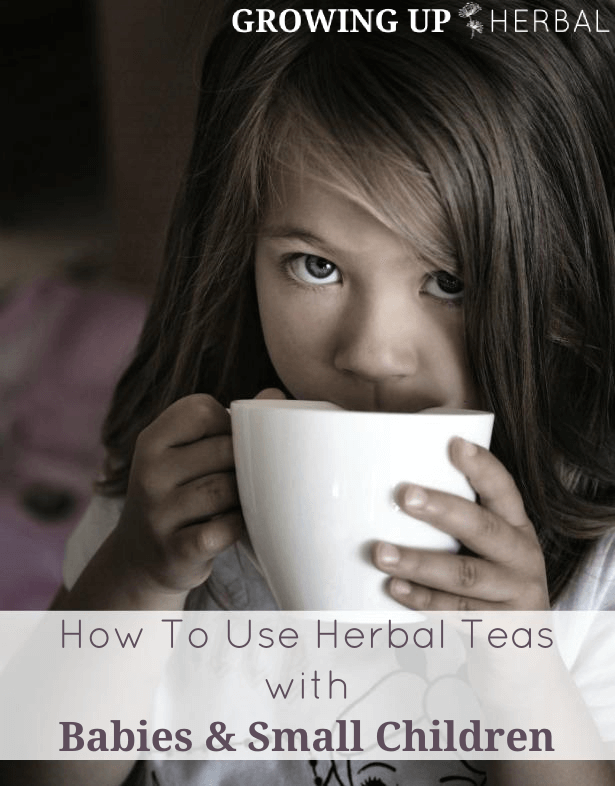 Herbal teas can be very beneficial for babies and children when taken correctly. Herbs and herbal teas can really come in handy if your child is sick or experiencing some discomfort. If you've ever wondered how to use herbal teas for babies, this post is for you. Meagan details how to choose the dosage of tea for your little ones AND offers advice on getting them to actually drink the tea!
"What do you do when you have a small baby (let's say less than 1 year old) or a small child, and you want to be able to use herbs with your little one to help them through some rough times that are common among babies? The problem is that you don't really feel like you know enough about herbs, and therefore you don't really know where to start. Forget that little ones can go through many different situations where herbs would be helpful, think about all the different herbs there are out there! Which ones do you use, and what's the best way to use them with this age child?
Today I want to talk about one of my favorite ways to use herbs with a small baby that's less than one year old. I also want to share some simple remedies that you can use for some common baby situations you might find yourself in… needing the help of God's gift of herbs!
Herbal Teas for Baby
Herbal teas are one of my favorite ways to use herbs with little children for a few different reasons.
The first reason is that herbal teas are very diluted which means there's less risk of giving your little one too much of an herb.
Another reason is that they can be made to taste good and/or they can be used in various ways to get kids to take them.
And lastly, like many herbal preparations, teas can be made in different strengths (teas andinfusions) depending upon how much of it the child needs to take, how it will taste (which will vary based on the herb used), and how you plan on using it."