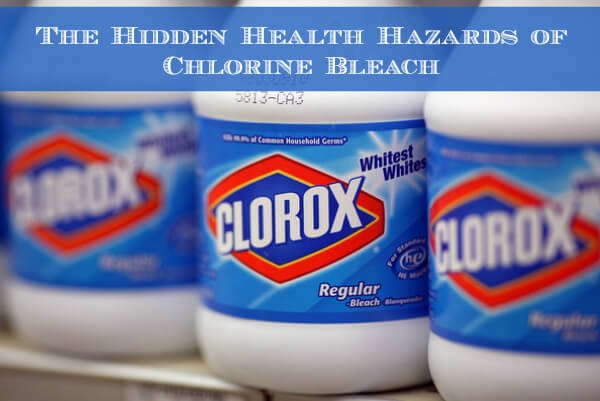 The more research we read about common American household cleaners, the more and more we whip up our own natural multipurpose cleaners, toilet cleaners, and stainless steel cleaners. We love a clean, disinfected home, but not at the expense of dangerous chemicals sloshed across our kitchen counters or lurking in cupboards within reach of little ones. Luckily, our grandparents had some wisdom, and the same ingredients they used to clean their homes work just as well today. One of the most frequently used household cleaners is chlorine bleach, both for cleaning the home and for whitening their whites. As effective as bleach may seem to be, we don't think it's worth the potential damage it can cause. This post presents three reasons to avoid chlorine bleach for the sake of your health.
"More than 85% of American households use chlorine bleach to clean their homes and whiten their clothes. The unfortunate truth about sodium hypochlorite is that it's far more hazardous than many realize.
Health hazards of chlorine bleach
We already know that chlorine bleach is poisonous. We do our best to keep it away from children. But there are more reasons to avoid bleach.
1. Bleach is linked to childhood infections.
A recent study by the University of Leuven in Belgium found the chance of flu was 20% higher and recurrent tonsillitis 35% greater among children whose parents used bleach to clean their home.
Researchers looked at 9,000 children between the ages of 6 and 12 in the Netherlands, Finland and Spain.
The parents were asked to complete a questionnaire on the number and frequency of times their children had flu, tonsillitis, sinusitis, bronchitis, otitis (ear infection) and pneumonia in the preceding 12 months. They were also asked if they used bleach to clean their homes at least once a week. Use of bleach was common in Spain (72 per cent of respondents) but rare in Finland (7 per cent).
The study concludes,
"Passive exposure to cleaning bleach in the home may have adverse effects on school-age children's health by increasing the risk of respiratory and other infections. The high frequency of use of disinfecting irritant cleaning products may be of public health concern, also when exposure occurs during childhood."
The study supports the hygiene hypothesis theory which suggests a young child's environment can be "too clean" to effectively stimulate or challenge the child's developing immune system.
2. Bleach can make a mold situation worse.
Chlorine bleach's ion structure prevents the chlorine from penetrating porous materials such as dry wall and wood. Mold's enzyme roots grow inside the porous materials, rendering the bleach ineffective."