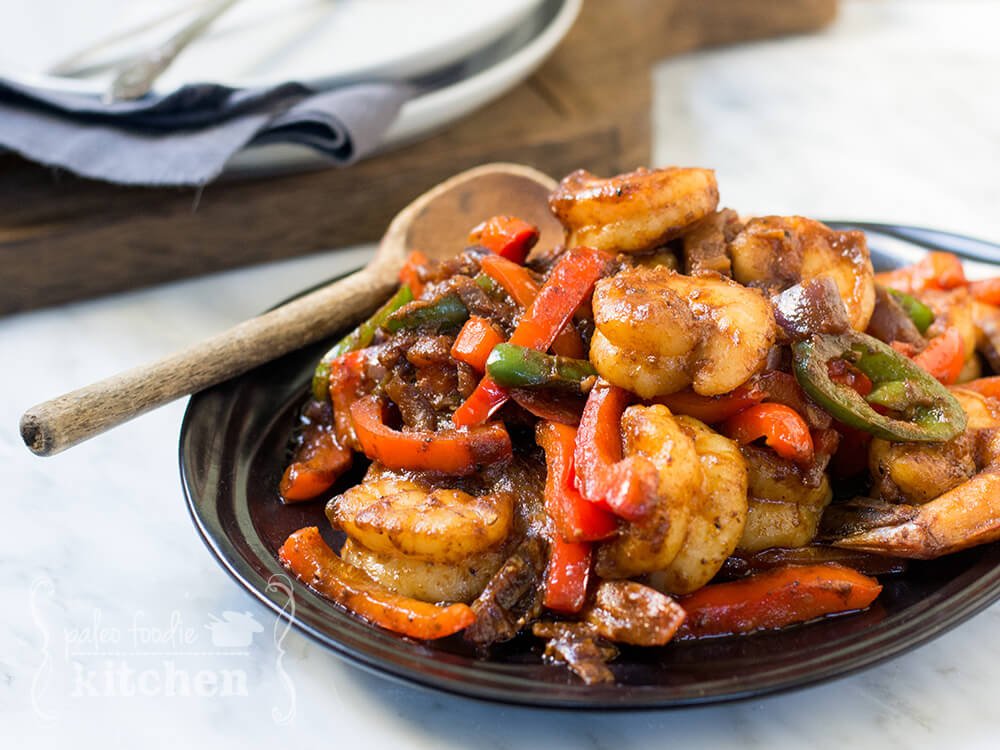 Despite the common controversy over the potential dangers of seafood, we're champions of including seafood from the right sources in our diets. The biggest problem I encounter with this is the fact that I really don't care for the taste of seafood. We didn't eat it much while I was growing up, so I don't think my palate ever got a chance to acquire the love that I now wish I had for it. Fortunately, yummy recipes like Asian ginger salmon are starting the change my mind, and I make myself eat fish from time to time for the health benefits.
The one bit of seafood I've never had a problem with is shrimp. And I love shrimp in all its forms! So when my husband is craving seafood (he is a fan of any and all fish/lobster/crab/shrimp), I'm happy to whip up a meal with shrimp so that we can both enjoy it 😉 This sizzling spicy shrimp is a perfect match for us. The fact that it is a stir fry makes it an easy and convenient meal for busy weekdays and ideal for serving a large crowd. The extra kick of heat provides an added depth of flavor that might convert someone who doesn't care for seafood!
"If you're a fan of stir-fry recipes like me because you just want something quick, easy and delicious, then this Spicy Sizzling Shrimp is right up your alley. Stir-fries are the saving grace when it comes to weeknight meals at our house because I know I can prepare a no-fuss meal that we can dive into in less than half an hour.
This has the right amount of spiciness depending on how much chili paste/hot sauce you use so it can range from mild to muy caliente. If you don't like it spicy or have young kids at home, just omit the chili and jalapeño.
Serve it piping hot with a big heaping bowl of cauliflower rice to sop up all the juices!
Since we're all about stir-fries in this post, this Sunday's newsletter will contain an exclusive homemade and preservative-free Szechuan Chili Paste that goes great with beef, chicken or vegetables so don't miss out! Subscribe to my email list here so you'll have this chili paste ready for your weekend meal prep."