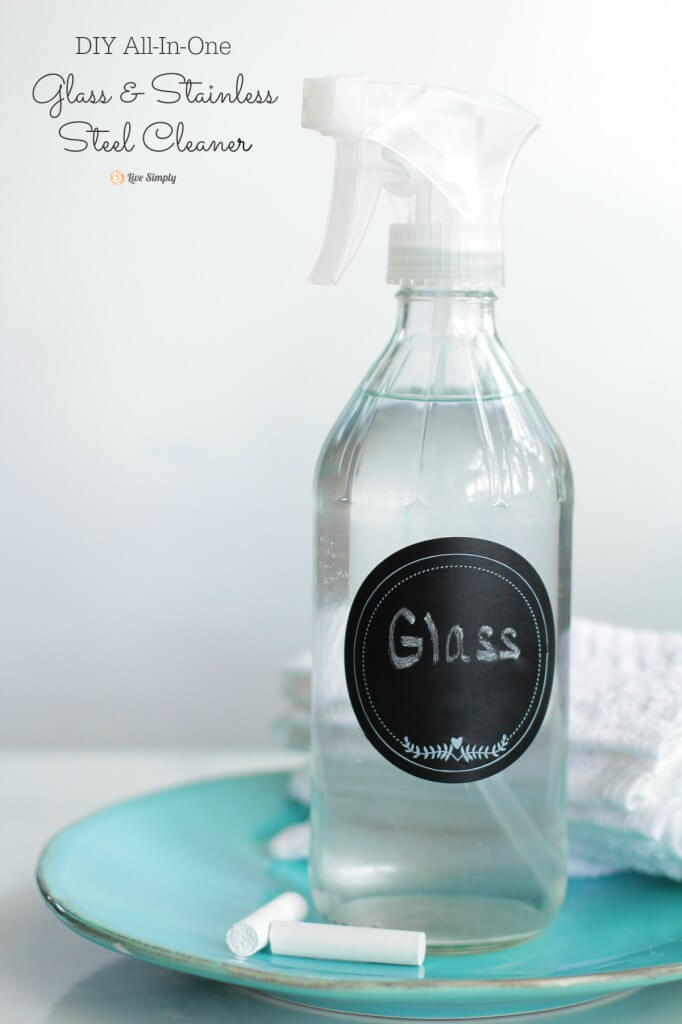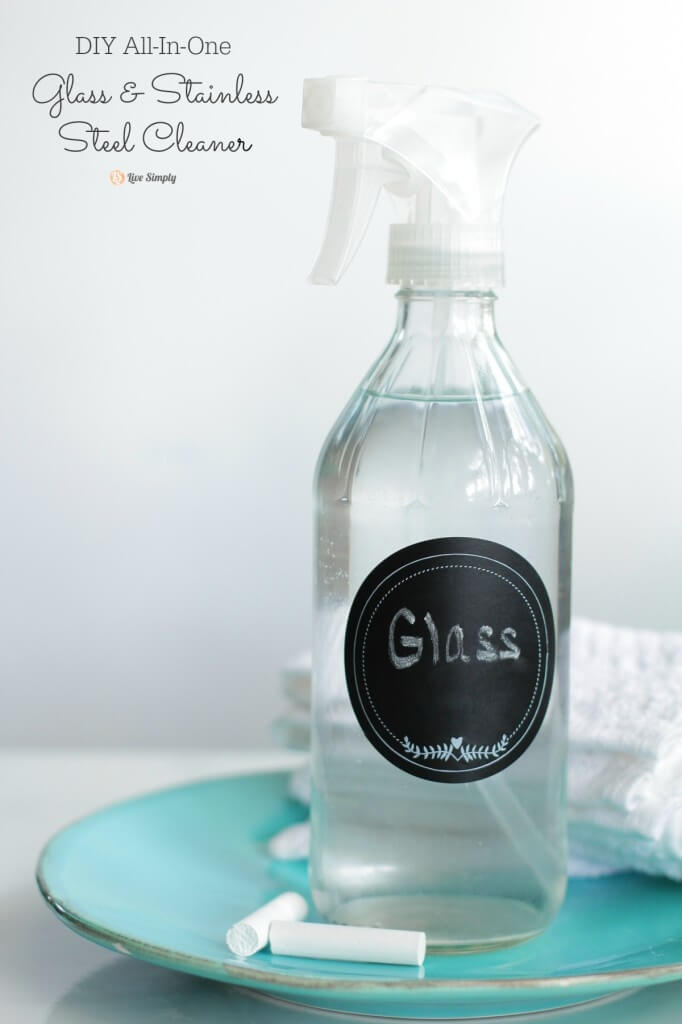 Any chance I have to make my own simple, natural, and homemade household cleaners, I jump on it. I find that making my own staple cleaners like anti-mold spray, toilet cleaner, or floor cleaner saves me time, money, and of course health because I'm avoiding toxins found in most store-bought cleaners. This DIY glass and stainless steel cleaner is the next cleaner on my to-make list. It does double duty as it works well both on glass like mirrors and windows while effectively making stainless steel sparkle. With only three ingredients, it's wildly easy and affordable!
"Has my plan worked yet?
Are you convinced that cleaning is the coolest activity in the world? Did I just date myself by using the word "coolest?" The nineties can really stick with a gal.
Over the past month we've poured vinegar into jars filled with brightly-colored towels for cleaning dirty surfaces. We've given new life to the Swiffer sitting in the lonesome corner of the garage by making homemade wipes. Our bathrooms now smell amazing, and are actually enjoyable to clean thanks to the absence of mystery smells and liquids (potty-training also sticks with a gal and bathroom).
Oh the magic of homemade cleaning.
Homemade DIY cleaning is not only empowering and even a tiny bit magical (or maybe the word is "motivating?"), it's also incredibly simple. And if you're new around here, I love simple. Simple enough that every single homemade cleaner I make only requires a few ingredients that cost little when compared to the price I used to pay for a massive number of individual cleaners from the store.
Since the cleaning bug bit me with its magical (okay, I'll try "motivating" next time) powers, I've been on a blog frenzy sharing my homemade cleaners. Let's recap the simple ingredients needed to make every single cleaner for a house that sparkles and shines:
Vinegar: Costing only a couple of dollars for a quart, vinegar can clean just about anything. A big bottle of vinegar can easily be stretched to make anything from homemade cleaning wipes, Swiffer wipes, surface spray cleaner, or a natural fabric softener.
Essential Oils: I use essential oils (particularly orange, tea tree, and lavender) in my homemade surface spray, cleaning wipes, Swiffer wipes, bathroom cleaner, laundry soap, hand soap, and even homemade beauty products.
Water: If you turn over a bottle of store-bought cleaner I guarantee the first ingredient will be water. I use water in many of my homemade products. Water can aid in bacteria growth (not something you want when cleaning your counter). If you're planning to use homemade products within a few weeks, tap water is just fine, but for a long-term use I suggest boiling water or using distilled water.
Castile Soap: Castile soap is an incredible cleaner that's made from 100% plant oils. It's known as a "true" soap due to it's biodegradable properties. Castile soap is concentrated and highly effective which means one bottle can create multiple homemade products such as: hand soap, laundry soap, and bathroom cleaner.
Baking Soda: Baking soda absorbs odors (hello amazing bathroom cleaner!) and can remove the toughest of stains.
Rubbing Alcohol: I'm sure many of us have torturous memories of this product as kids. Ever have a cut? Yep, painful!
Rubbing alcohol is actually good for much more than torturing (I mean "cleaning") boo-boos. This ingredient is used as a disinfectant and also works to dissolve dirt and oil. Rubbing alcohol dries quickly which makes it the perfect ingredient for DIY glass and stainless steel cleaner or homemade Swiffer wipes."