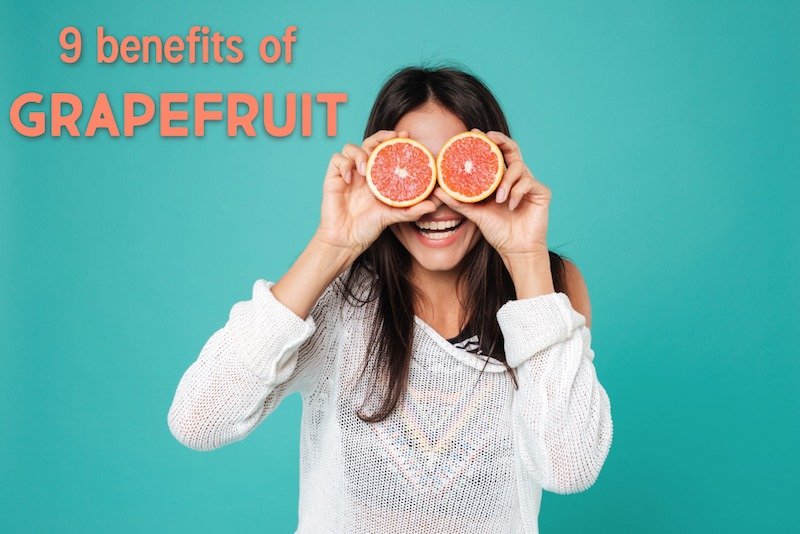 Isn't it wonderful when a food you love just so happens to be loaded with nutritious value? That's how I feel about the health benefits of grapefruit. I love grapefruit. I'm one of those people who eats the fruit of the grapefruit then laps up the juice like a dehydrated camel. When I was in college, I ate a grapefruit almost every morning for breakfast. This citrus fruit is simultaneously sweet and tart, it's juicy, and the texture is similar to that of an orange. Grapefruit is tasty on its own, but is also a great component in salads like this Asian chicken salad and its juice is a wonderful addition to chicken marinades.
Little did I know back in the day, there are amazing health benefits of grapefruit to accompany its delicious flavor.
Grapefruit Nutrition Facts
Grapefruits are packed with numerous vitamins and minerals. They are low in calories, making it a wonderful mid-morning or late afternoon snack. Grapefruit boasts nutritional value such as:
Potassium – 166 mg
Fiber – 2 g
Vitamin A – 28% DV
Vitamin C – 64% DV
Vitamin B-6 – 5% DV
Benefits of Grapefruit
Because of its high vitamin and mineral content, grapefruit can be used to improve health in a large variety of areas.
Aids in Weight Loss
Grapefruit speeds up your metabolism, helping you burn fat at a faster rate. Some experiments show people lost up to 2 pounds a week while consuming grapefruit regularly. For best results, consume half a grapefruit before each meal.
Helps Prevent Kidney Stones
Anyone who has experienced kidney stones know just how painful they can be. Kidney stones are usually caused by a build up of calcium. Consuming grapefruit juice can help prevent these build ups of calcium and thus help avoid kidney stones.
Reduces Swelling During Pregnancy
The Vitamin C and bioflavonoids in grapefruit help reduce water retention and therefore the swelling that often occurs during pregnancy. What a relief!
Brightens Skin
Vitamin C is necessary for the production of collagen, which is key for skin recovery and health. Additionally, grapefruit is rich in beta-carotene, which slows the aging process and restores skin cells. Because of its acidity, grapefruit juice cleanses the skin well when used in skincare products.
Helps Prevent Gum Disease
Gum disease is often caused by free radicals accumulating in the body. When left untreated, gum disease can morph into oral cancer. Since grapefruit eliminates free radicals, scientists have found that consuming two grapefruits a day can prevent and even reverse gum disease.
Reduces Bad Cholesterol
A study conducted over a month showed that those who consumed blond grapefruits reduced their LDL, the bad cholesterol, by 15%.
Boosts Immune System
The high levels of Vitamin C make grapefruit excellent when preventing or battling the common cold. As an added bonus, the tang of the grapefruit juice often offers immediate relief to sore throats.
Reduces the Appearance of Cellulite
This one seems to good to be true, but stay with me. Cellulite can be broken down when the lymphatic and nervous systems are stimulated. Studies have shown that when grapefruit extract is inhaled, it stimulates the nervous system by nearly 300%! Grapefruit also contains bromelain, an enzyme that breaks down cellulite. Would you give it a shot?
Helps Prevent Cancer
Vitamin C has been shown to help prevent cancers of the mouth and stomach. There are also studies that suggest grapefruit combats free radicals, which can cause or trigger cancer.
How to Choose and Eat a Grapefruit
When selecting a grapefruit, use the same guidelines as you would with an orange. You want the fruit to be firm, yet springy. Red and pink grapefruits have a sweeter taste.
To eat, you can cut the grapefruit in quarters and peel off the skin.
But the most popular way to eat a grapefruit on its own is by the half:
Cut the grapefruit in half.
Use a sharp knife to loosen the fruit away from the peel.
Then, cut in between each individual grapefruit segment.
To eat, use a spoon to dig out each segment, and enjoy!
Not crazy about the taste of grapefruit? Try putting a grapefruit wedge in your water to ease yourself into the flavor.
An Important Caution
Have you ever noticed that on commercials for several kinds of prescription drugs they warn against consuming grapefruit while taking that medication? That's because grapefruit contains high amounts flavonoid naringin, which will reject synthetic drugs. This is a good thing, because this means grapefruit helps recognize toxins in the body; however, the danger can arise when grapefruits interfere with the man-made drugs and cause them to remain in the body, causing toxicity. Anyone taking these kinds of medication will want to heed this caution.
Do you like grapefruit? Share this post with a fellow grapefruit-loving friend!