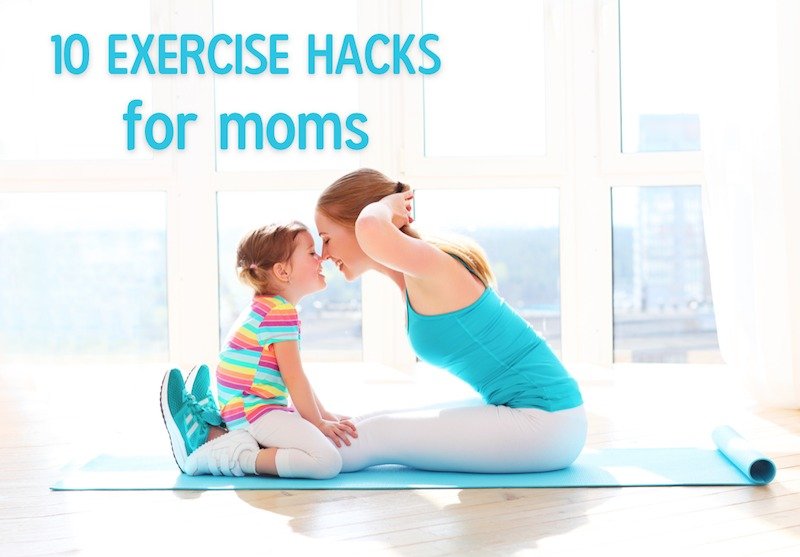 Around here, we're all about quick and effective exercise hacks. Sure, we would love to have the time to move more intensely for a couple hours each day, but with little ones, work, cooking, cleaning, and self-care on our to-do lists, our days don't lend much time for extensive gym sessions. That's why we are fans of short at-home workouts like kettlebells, 12 minute calorie busters, and short backside workouts. We also try to incorporate constant movement throughout our days, especially to reduce the effects of sitting so much. This list of exercise hacks for moms will help you fit more fitness into the rhythm of your everyday life.
10 Exercise Hacks to Sneak More Movement Into Your Busy Day
One of the biggest obstacles moms encounter when trying to keep their bodies healthy is time, or lack there of. So instead of giving up before we even start, let's try to find ways to fit exercise into our days and our lives as moms.
Use your baby as a weight
Have a baby or toddler around the house? Get them involved! Squat while holding your baby, do push ups with your child sitting on your back, or lift your child above your head. As long as you're steady and safe, these are fantastic ways to use natural weight and movement. Plus, they'll have a blast "making mommy work harder!".
Take the kids on a walk
Perhaps the simplest activity is one of the most effective. A daily walk can do wonders for your pelvic floor and core strength. Even just a quick walk around the block while the kids walk with you or hang in a stroller benefits your body so much. The fresh air does wonders for everyone!
Have walking meetings
If you're a working mom, finding time to exercise can prove to be even more difficult. If you have a telephone meeting scheduled, consider walking while taking the call. It may even be possible to meet in person while walking.
Squat when picking up toys
It's the end-of-day-mom-shuffle: picking up the last of the stranded toys, sweeping up messes from dinner, throwing in a load of laundry before bed. As moms, we move a lot throughout the day. We would be wise to make the most of it. Instead of bending over to pick up items off the floor, try squatting each time.
Schedule workouts
You wouldn't miss your child's well-child visit or a meeting for work, so try scheduling times for exercise. Put it in your calendar, set a reminder, and don't let yourself miss it. Make fitness an equal priority to work or coffee dates and you will make it happen.
Park farther than you have to
Going grocery shopping? Park in a spot far away from the entrance. Your body will appreciate the extra steps and if your kids are with you, they'll get good exercise as well.
Track your progress
If you're a person who is motivated by challenges and results, consider investing in a fitness tracker. With many fitness bands, you are able to track your steps, calories burned, miles walks, and even your heart rate. Set goals for yourself and work to meet them. Seeing the results right in front of you is a great tool to keep you mentally in the exercise game.
Meet friends at the gym
Accountability partners can be a great way to fit in more exercise during your busy day as a mom. Meet some girlfriends at the gym for a class or a walk on the treadmill. It will get you moving and provide you a chance for some adult time!
Take the stairs
Any chance you get, take the stairs over the elevator or escalator. It may take you just a bit longer to arrive somewhere (especially if your kids are with you), but it's a simple, affordable, no fuss way to incorporate more movement into your day.
Have fun with it!
Finally, choose activities that you actually enjoy. Don't feel pressure to do an exercise or take a class just because it's popular at the time or because your friend likes it. You'll only make time for what you will actually enjoy, so find an activity, or even one of these hacks, that really resonates with you and run with it (no pun intended!).
Have you found a way to sneak in exercise throughout your day? Let us know in the comments below!