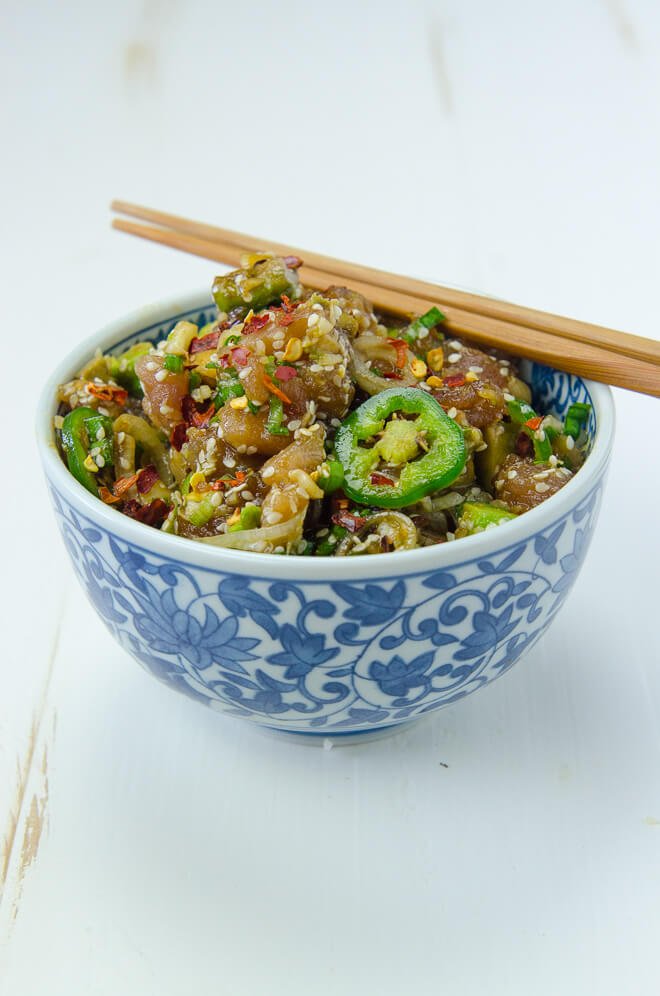 My family absolutely loves seafood. It may even rival their love for red meat, especially steak. But my family is a friend to all wild-caught fish, especially during the summer. We love everything from a simply baked salmon to ginger mahi mahi to cioppino. I enjoy experimenting with different fish dishes, and this albacore tuna poke is on my list!
"We eat a fair amount of seafood in my home: albacore tuna, black cod, salmon, spot shrimp and fresh oysters, particularly now that we live near the sea, but it's something I've always valued serving my family as seafood packs powerful nutrition as it's rich in omega-3 fatty acids, protein, vitamins and minerals, and provides a nice balance to meat-heavy fare.
What is Poke?
Poke is a traditional fish dish from Hawaii, where fresh tuna is chopped coarsely, mixed with other ingredients like macadamia nuts, green onions and seaweed, and seasoned with soy sauce. It's light, fresh and delicious served over rice.
I often serve poke in the summer months when I don't feel like heating up the kitchen with the stove and oven, and need something satisfying but light at the same time.
Sustainably Caught Albacore
I favor albacore tuna in my poke, and for feeding my family in general. Seafood Watch, an organization devoted to helping consumers navigate the waters of sustainable seafood, ranks albacore tuna caught in the North Pacific as a "best choice" owing to its plentiful, well-managed population and the methods by which it's caught.
Albacore has a lean, clean flavor and faint butteriness that pairs. Its leanness means that it benefits from minimal cooking, which keeps it moist instead of dry, and it's that very leanness that makes it a solid choice for something like poke.
Why I Choose Sustainable, Wild-Caught Fish
Fish is extraordinarily rich in wholesome nutrition, particularly omega-3 fatty acids, B vitamins, minerals and quality protein. It's a staple in our home, but I'm likewise concerned, like many of you are, about overfishing, and general sustainability.
Techniques like fishing from sustainably managed fisheries, like those in Alaska, as well as fishing for one fish at a time using old-fashioned hook-and-line techniques ensure that bycatch is minimized and fish populations can continue to proliferate. For my part, I want some sort of guarantee, and that's why I like to buy my fish straight from a cooperative of men and women who catch them.
How to Buy Sustainable Fish Straight from the Fishermen
I've been working with Alaska Gold Brand, from the Seafood Producers Cooperative. Working as a cooperative allows fishermen to band their resources together, ensuring they get the fairest price for their fish, while also allowing members to share the costs associated with packaging, marketing, and distributing their catch.
When you purchase from cooperatives, you not only support fair prices for producers, but you also support their mission and methods. In the case of this cooperative, that choice supports individuals and families whose methods minimize bycatch and support Alaska's commitment to sustainability."