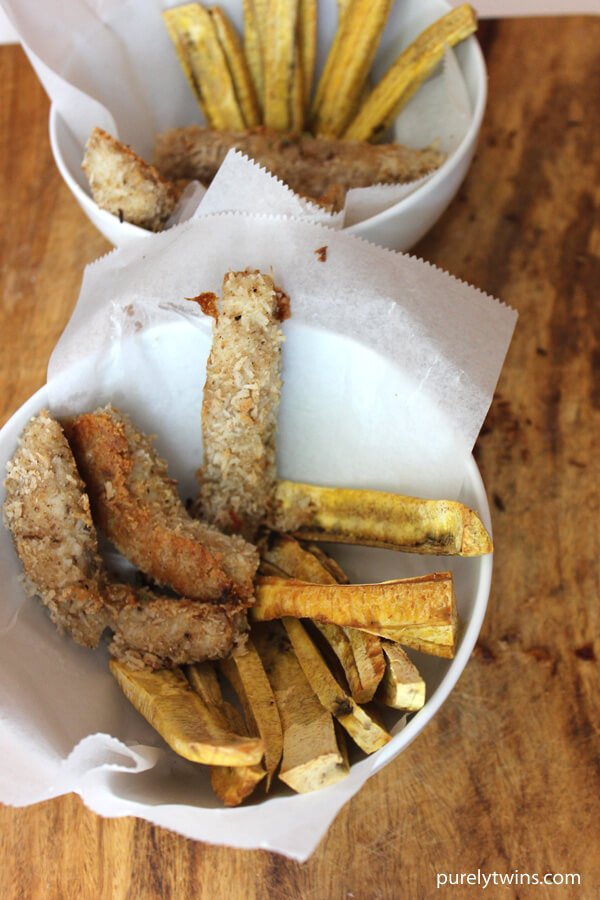 I grew up on classic bar/snack foods like chicken tenders, pizza, and tacos, so when a recipe like this paleo fish and chips one comes along, I get really excited. My family loves fish and mostly enjoys various salmon dishes. But every once in a while, I like to try and mix it up with a different kind of fish prepared in a fun way. If you're a fan of this typically-fried fish with fried potato chips, you will love this real food version.
"Looking for a way to enjoy the classic fish and chips without all the extra calories or processed ingredients? Want a healthy and tasty dinner that the whole family will love? Paleo fish and chips recipe made with plantain chips and Sizzlefish haddock fish breaded with tigernut flour and coconut flakes.
Paleo fish and chips recipe using coconut flakes and tigernut and baked in coconut oil. Plantain chips instead of french fries making this a healthier dinner option.
We were so excited to make this recipe. It was a recipe on our minds for a long time to make and we finally got around to making it! Thanks again Sizzlefish for providing us with the amazing fish. If you are new to Sizzlefish they provide high quality fish that are individually packaged making it very convenient!
Fish and chips is something we never really liked because we never liked fried foods. It just wasn't our thing. We prefer chocolate. But for some reason the idea of it we loved. We thought it was a cute way to present food. Basically couldn't get it out of our minds because we knew we could create a version we would like to eat.
Now we have the only fish and chip recipe you will need. Yep, we know you will LOVE it as much as we did.
It's made from few ingredients and doesn't take long to make. So after a long day of work you can have a healthy dinner in 20 minutes. As you are changing out of your work clothes you can have the fish and plantain chips baking away, so by the time you get back to the kitchen dinner is ready."