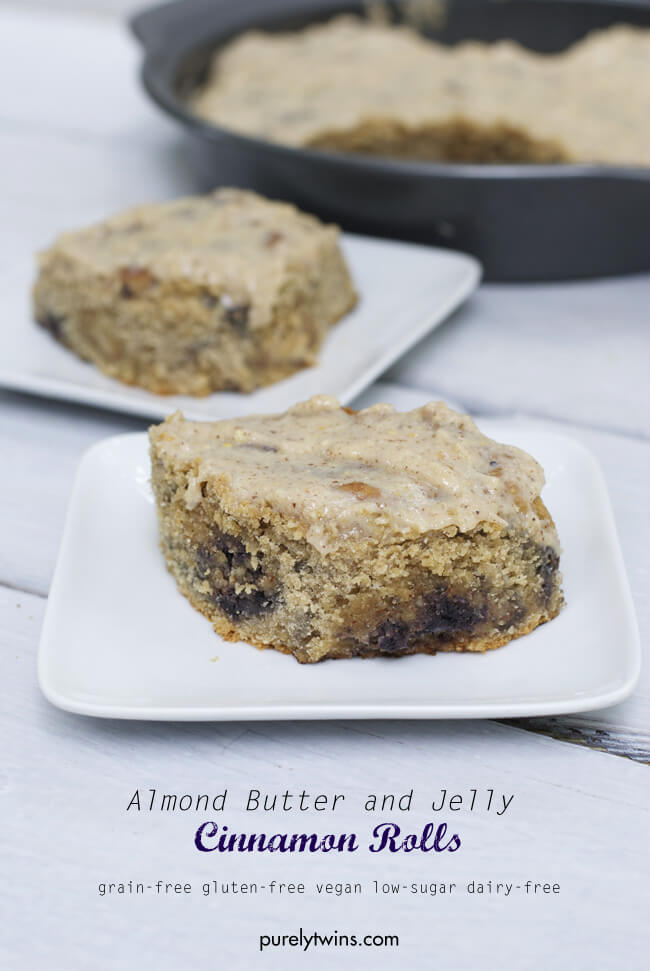 Mmmm cinnamon rolls. The ooey, gooey, warm, and rich components of cinnamon rolls make them a breakfast favorite. These grain free almond butter and jelly cinnamon rolls are made with healthy ingredients like coconut flour, coconut sugar, coconut oil, apple cider vinegar, berries, gelatin, coconut milk, and stevia. Can you imagine the smell yet?!
"What is it about cinnamon rolls that just bring a huge smile to our faces!?
One family tradition we had was our older sister would make homemade cinnamon rolls each Christmas morning. She would spend hours in the kitchen making the most amazing cinnamon rolls. We can picture them now. Soft, moist, and oh so sweet! Yum!
When creating our love of cinnamon rolls again it started with our cookie dough cinnamon rolls. Yes cookie dough! We love love love that recipe.
When wanted to create another amazing cinnamon roll recipe. But one without using plantains since we know not all of you can find plantains. And we wanted a recipe for you to enjoy too! You can take this cinnamon roll base and use it in our cookie dough cinnamon rolls!! Happy dance 
Get ready PT friends for the best cinnamon rolls! Well the best in our eyes.
Really any nut or seed butter would work just fine.
Get ready to smell delicious flavors of warm almond butter mixed with homemade no sugar added jelly topped with creamy melt-in-mouth glaze.
No confectioner sugar needed in this glaze!!!
These cinnamon buns are made with sunflower seed flour and arrowroot starch as our main 'flour' sources. The arrowroot helps hold it together while keeping it light. The sunflower seed flour (made from grinding whole sunflower seeds into meal) helps keep these rolls soft and moist.
And a touch of coconut flour gives it a nice soft crumb."