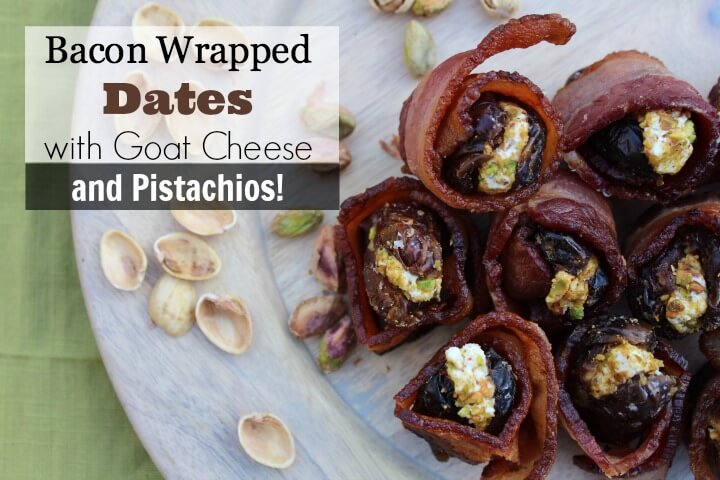 Everything is better with bacon. These dates stuffed with creamy goat cheese and crunchy pistachios are the perfect combination of flavor and texture. Wrap them in smokey, salty, and crunchy bacon and you have perfection on a plate. Bacon wrapped dates are perfect for an appetizer, a party, or for a simple snack. Just try not to eat them all in one sitting 😉
"I guess you could say that bacon saved my life. Okay, well actually paleo saved my life and I like to say that bacon is the gateway drug to paleo, so yeah…. that's my story and I'm sticking to it. Bacon seems to be how many of us former vegetarians throw in the towel and begin to embrace real food. Once you get over the shock that saturated fat is actually good for you, you naturally want to put bacon on all the things!
When I transitioned my kids to paleo it wasn't always easy, but you wanna know what they didn't fight me on at all? Anything to do with bacon or dates!
These little balls of yum are perfect to bring to a holiday dinner party and easy enough to whip up just because. My requirements for dishes are usually: easy, delicious, and healthy. Check, check, check!
(Is goat cheese technically paleo? No not really but most of us in the paleo world follow an 80/20 approach and as long as you are not sensitive to it, I say pass the goat cheese!)
Bacon Wrapped Dates with Goat Cheese and Pistachios
What you will need:
1 package of goat cheese
1/2 pound of shelled pistachios
25-30 pitted dates
2 packages pastured bacon
Toothpicks"