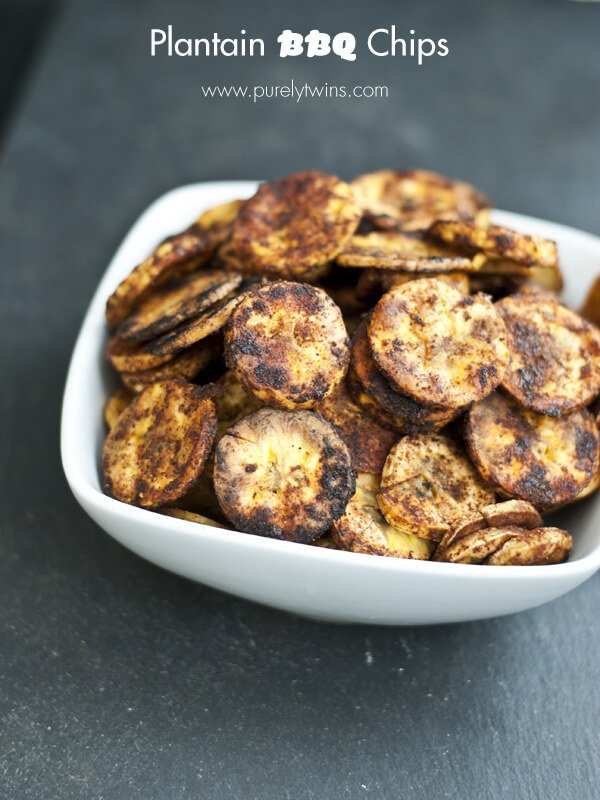 These BBQ plantain chips are the perfect pairing for your burger or Italian beef sandwich. They are the right mix of smokey, sweet, and salty that pack a delicious and crispy punch.
"You know when you are in that mood for something a little smoky…salty…crispy?
Anyone else enjoy a mouth full of bbq chips?
Well, today we are sharing our newest plantain eating obsession — bbq chips!
Healthy baked homemade plantain BBQ chips.
We thought of this idea a few weeks ago. We were about to make up some of our original plantain chips and decided we needed to jazz them up some. BBQ came to mind 
No need to run the store for chips, you can easily make a fresh batch of bbq chips homemade. But with the right seasoning and the right base, right?
We think know you'll be hooked with our version of bbq chips!
Now we don't have anything against a good old white potato, just why not use a plantain? Right?! Only seems logical. 

After you enjoy these you won't be able to stand the taste of regular, generic store bought bbq chips, haha okay maybe we are pushing the line a little, but for us these hit the spot. Addicting little things too.
So the next time you crave chips, do yourself a favor and make these BBQ plantain chips. Perfect to serve these bbq chips with this burger.
They taste best fresh, warm out of the oven. And depending on how thick or thin you slice your plantain will determine the overall crispness. Though be careful not to cut too thin that your plantain chips end up being burnt. Not that we did that once or twice before or anything. Just saying… be careful."