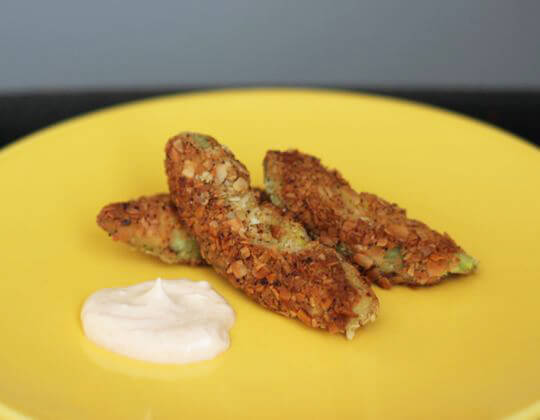 The crunchy factor of fries is what makes them so appealing, but their nasty ingredients aren't even slightly worth it. These avocado fries, on the other hand, are not only crunchy and creamy, but healthy too. Slices of smooth and beneficial avocado are passed through a batter made of a base of coconut flour, coconut flakes, egg, and spices and fried in coconut oil. They taste as beautiful as they look!
"Avocado fries have that tempting combination of a crispy outer layer, creamy middle and addictive fried flavor. Made with nothing more than avocado, coconut, egg, salt and spices, it's a pure and healthful snack or salad topping loaded with beneficial fatty acids.
Before you scarf down an entire plateful, keep in mind that a little bit of avocado goes a long way. The good news is that avocado fries are both rich and filling so a small portion is plenty satisfying. This simple recipe gives avocado fries a Southwest flair, adding cumin and chili powder to the mix. You could take this theme a little further by adding finely chopped cilantro to the coating and finishing them with a squirt of fresh lime.
One last thing: Don't make this recipe unless you have a bottle of hot sauce in the fridge. It adds the extra kick that sends avocado fries over the top."