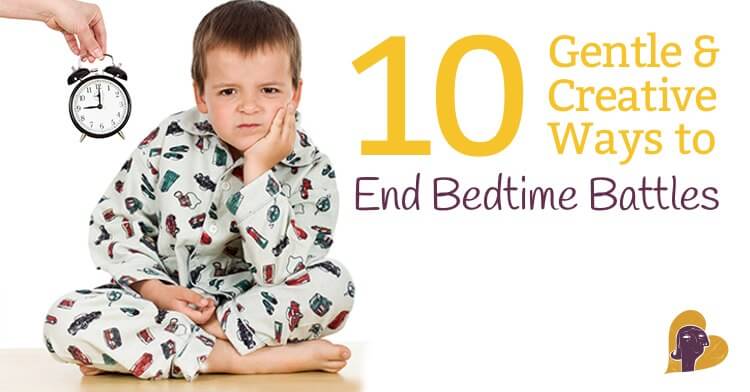 When it comes to our overall health, sleep is an important factor that is often overlooked. Sometimes, our own children seem to ignore this importance as they tend to rebel against bedtime 😉 I am but a mere seven weeks in with our first child, and I can already relate to the relief parents feel when their children finally fall asleep. When you're dealing with older children, they may begin to intentionally fight you when it comes time to call it a night. If their stubbornness overrides a bath with relaxing salts, you may need to bring out the big guns of strategy.
This post offers ten suggestions on how to end bedtime battles. By creating a calming atmosphere, giving your children choices before bedtime, and spending some quiet quality time together, bedtime can evolve from a nightmare to a sweet dream!
"Let's be honest. After a long day of parenting, most of us look forward to the time our children go to bed. We need a little break to refuel and start up the next day again.
That's why having a nightly bedtime battle can be so difficult. Patience is thin. Frustrations are high. And everyone is tired.
How to End Bedtime Battles
But it doesn't have to be that way. Believe it or not, you can make bedtime fun for the whole family. The key is to create a gentle routine, where everyone can thrive.
Here are 10 tips to end bedtime battles and make the nighttime routine enjoyable for the whole family:
1. Do the Hard Stuff First
Right after dinner, get kids washed up, in pajamas and teeth flossed and brushed. You may even want to do all of it downstairs (or away from the bedroom) so it's clear to your kids that bedtime isn't imminent. It's all about starting the bedtime early so there's plenty of time to get everything done without a battle. Be sure that they know that they need to do these things first before they can enjoy the other fun nighttime events. Of course, if they are unwilling to do the clean up activities of bedtime, you can let them know that they won't be able to do the fun stuff. Give them choices, and let them have their consequences… which leads us to the second tip."