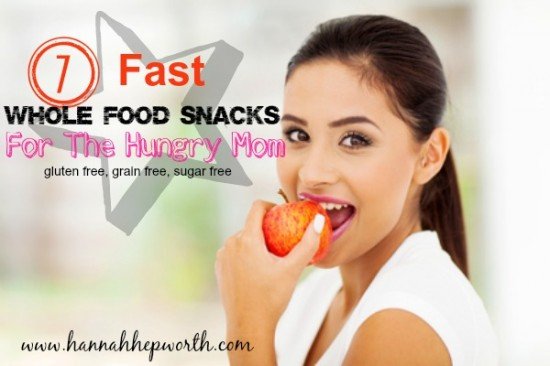 Having lived through a mere six weeks with our first baby, my husband and I are convinced that babies, and kids of all ages, for that matter, can sense when their adult parents are about to eat. It is as if they possess a sixth sense. I can do everything in my power to make sure the baby is dry, full, and asleep before I sit down to eat; but even if he is in the deepest of sleep, he will suddenly wake up and cry when I try and sneak some food for myself. So goes the life of the parent, right? You may put valued time and effort into that chicken pot pie or those Greek meatballs, but chances are that you'll be the last to enjoy them. And your food may be cold.
This inconvenient timing of our little ones can at times interfere with our ability to function properly. Parent or not, we are human, and we must eat. So when your meals are few and far between, how are you to ensure you are getting proper fuel to keep you going throughout the day? For many, the (flawed) solution is fast and unhealthy snacks like a drive-thru, chips, little candy bars, and donuts. Making healthy food may seem impossible at the time. Although the unhealthy snacks provide calories, it is quite clear that they are empty calories and these foods are actually harming overall health. With a bit of planning and preparation, it is possible to have fast and healthy snacks that are easy to consume in a hurry as you chase that toddler around. Not only are these snacks convenient, they are also tasty and affordable! So if you have a hard time eating healthy food throughout your day, give these healthy snacks a try!
"Moms Need To Take Care Of Themselves!
When you're a mom you are often the last one to eat, the last one to shower, and the last one to use the bathroom…alone. We are so busy helping others that we often don't make time ourselves.
We can't do this. This is not how a mom functions well. You must take care of yourself so you can take care of others.
When you get hungry it affects your energy, blood sugar, mood, and hormones among other things.
Sometimes you just need something you can grab fast that will hold you over until you can eat more. Often convenience foods are the least healthy and just a source of empty calories and sugar that won't fill you up for long.
I have compiled a list of 7 fast whole food snacks that are also easy to have on hand ready when hunger strikes! They also happen to be gluten free, grain free AND sugar free, not to mention fairly inexpensive and easy enough to find in any grocery store.
7 Quick Nourishing Snacks For The Hungry Mom
1. Nuts– Any kind of nut, sprouted almonds, pistachios, roasted cashews, pecans and macadamia nuts. Nuts are a great source of protein and will fill you up fast and stabilize blood sugar levels.
2. Cheese– I actually love to eat cheese with nuts, but sometimes I just eat a slice by itself to curb my hunger while cooking dinner."