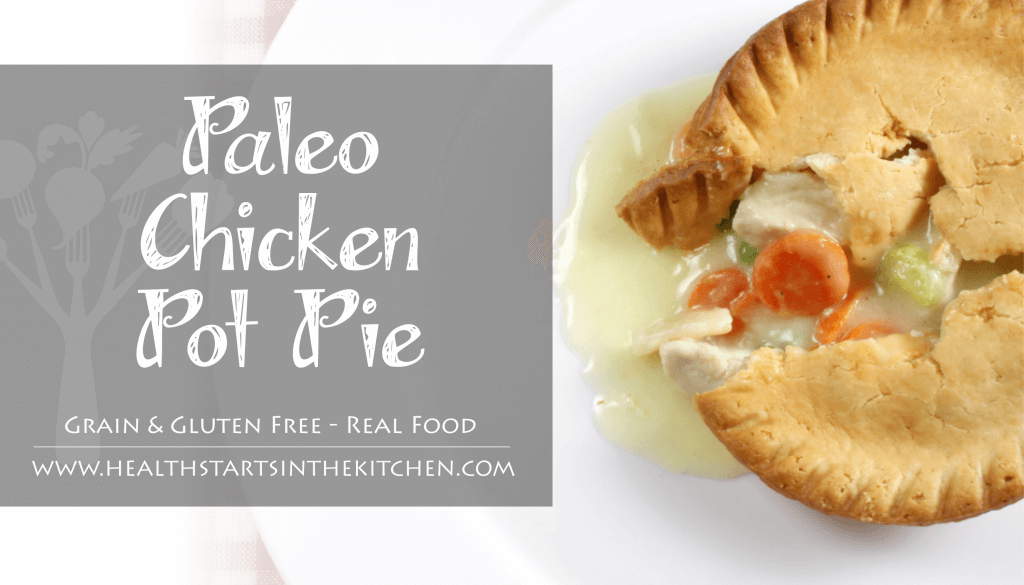 Chicken pot pie is a classic comfort dish that marries a gooey, creamy, vegetable mixture with a crisp, flaky crust. This paleo chicken pot pie is an excellent way to enjoy all the flavors, texture, and warmth of this favorite without the unhealthy ingredients. Because it is made with good chicken, eggs, almond flour, tapioca flour, butter, organic spices, and coconut oil, not only does it avoid the nasty ingredients in typical chicken pot pie, but it also provides some great nutrition as well!
"I searched high and low for the perfect Paleo, Grain & Gluten Free Chicken Pot Pie Recipe – but alas all of them were sadly lacking. Most of the recipes I found were just chicken filling in a pie plate or casserole with some pseudo-crust like topping…. one recipe even told you to bake a round crust separately and put it ontop of your filling right before serving!
I wanted REAL chicken pot pie. Like the ones you buy at the grocery store freezer in the little boxes, with creamy filling and a crispy DOUBLE crust!
 There are 5 Key Ingredients to my Perfect Chicken Pot Pies:
1. Individual Pie Plates – I purchased a set of 6 – 6 inch GLASS pie plates (buy HERE – they are so cheap!) ,they are the perfect size for an adult sized pot pie. You can also use the disposable aluminum ones at the grocery store but compared to the glass ones I bought they are just a waste of money not to mention cooking in aluminum isn't healthy!
2. Chicken – I ALWAYS suggest using local/organic/pasture raised chicken it's good for you, the planet, the chicken and your local farmer. I recommend making a whole chicken in your crock pot (my RECIPE) or in your pressure cooker (my RECIPE) … you can even use a store bought rotisserie chicken or left over Thanksgiving Turkey! and don't forget to use those bones to make chicken bone broth – you'll need it for the gravy!
3. Dough for the Crust – The dough is so easy. Just toss everything into your food processor and pulse a bunch of times (It's the same dough used in myBeef & Cheese Taco Cups Recipe). The dough will look crumbly, but when you squeeze it with your hand it will hold together like a traditional pie crust dough, dump your crumbly looking dough onto the counter and knead it together then place in a plastic bag or wrap with plastic wrap."