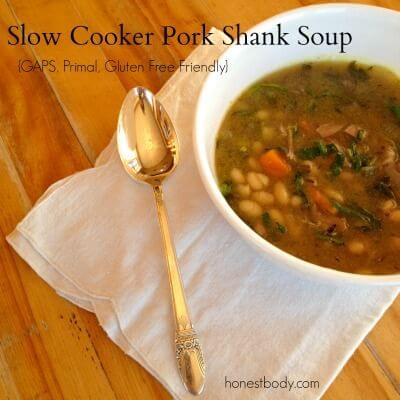 In the dead on winter, there is nothing like a big bowl of warm and cozy soup. Life gets even better if that soup can be made in the crockpot! This easy recipe for pork soup can be cooked in the crockpot and is full of vegetables and flavor. This pork soup is GAPS diet friendly, primal, and gluten free; so not only will it taste great, but it will help you feel great as well! Now grab your crockpot and get to cooking, your pork soup awaits!
"My slow cooker is seeing a lot of use this winter. This GAPS diet slow cooker pork soup is a recent creation, using the last of the 1/2 of a woodland raised pig we purchased from farmer friends last year.
I'm hard at work developing the online GAPS ecourse. Nourishment and home cooked food is always a priority, and that means simplicity is best in the kitchen. Starting dinner in the morning and then adding one side dish to complete it, is key.
This soup is warm and nourishing, buttery and so savory. If dairy is not an issue I recommend serving with some shredded Monterey jack cheese, avocado, or a drizzle of olive oil.
INGREDIENTS
1 lb dried navy beans, soaked overnight
4 cups chicken broth (homemade is best)
2 cups water
½ cup butter or ghee
1 large red onion, chopped
2 stalks celery, chopped
2 large carrots, diced
2 cups fresh spinach, chopped
1½ tsp dried thyme
1½ tsp dried oregano
1½ tsp garlic powder
1 tsp curry powder
1 tablespoon sea salt (+ more to taste)
½ tsp black pepper
2 pork shanks"