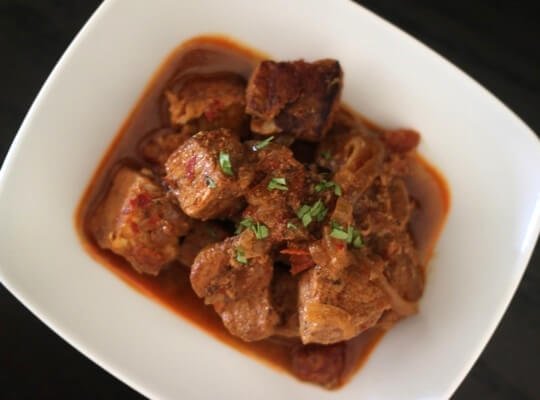 Harissa is a North African condiment that packs quite a bit of heat. Made with a variation of spices, it is simple to make at home! In this recipe for slow cooker Harissa stew, this condiment is combined with pork or beef shoulder, coconut oil, beef broth, and a slew of spices for a uniquely flavored yet simple dish. Have you ever had Harissa? Would you be willing to try out the heat?
"Remember this delicious harissa lamb chop recipe? Take the recipe's advice and also try harissa – a spicy North African condiment you can make at home with dried chiles, garlic, coriander, cumin, caraway and olive oil – as a rub for other types of meat like pork or beef. This recipe for slow cooker harissa stew guides the way.
In this recipe, harissa gives the stew meat complex, spicy flavor but the stew isn't overly hot. However, if the moderate level of spiciness is still too hot for you, then cool the stew down by adding extra coconut milk at the end. If the stew isn't spicy enough, then use leftover harissa as a condiment served with the stew.
Why the recent obsession with harissa? The stuff's addictive, for one. The peppers and spices in harissa also provide a healthy dose of antioxidants. This stew recipe throws in even more spices on the side for good measure, like cinnamon, turmeric and cardamom.
Like most slow cooker meals, this is a simple "toss it in the slow cooker and forget about it" recipe. And like most stews, it tastes even better a day or two later, so pray for leftovers."