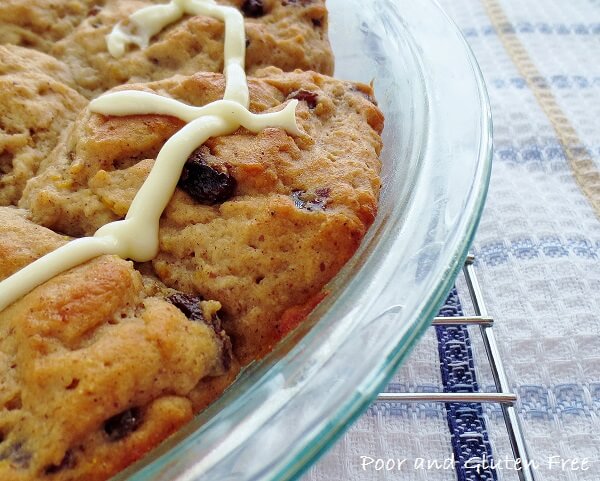 Hot cross buns are a tradition Easter favorite, but you don't have to wait until then to try them out! These hot cross buns are grain and dairy free, sweetened with organic brown sugar and topped with a delicious glaze.
"Although I've never made hot cross buns – I do vaguely recall my mother making them once – I thought this was a perfect time to experiment with them.
So after a few tries I ended up with a couple of hybrids, Gluten Free Hot Cross Pull-Apart Buns and  Gluten Free Chocolate Hot Cross Buns, with an orange twist. And we've been munching them for breakfast all week now…
The Chocolate Hot Cross Buns version came about after my dear husband got excited when he saw and smelled) the first batch of buns. When he bit into it, though, he was disappointed because he had thought the raisins were chocolate chips (he's not a fan of raisins). So I had to make another batch for him with chocolate chips! Apparently, though, in some parts of the world like Australia, Chocolate Hot Cross Buns are a new tradition.
This recipe requires a few bowls on the go, but it's really quite quick and simple to put together. I know this because I've made several versions this week. This recipe is the best of the bunch, with a soft, spongy texture and a delicate spiced flavour.
You can sub lemon zest for orange zest instead for a lemon flavour, or leave it out altogether for a simple spiced bun."