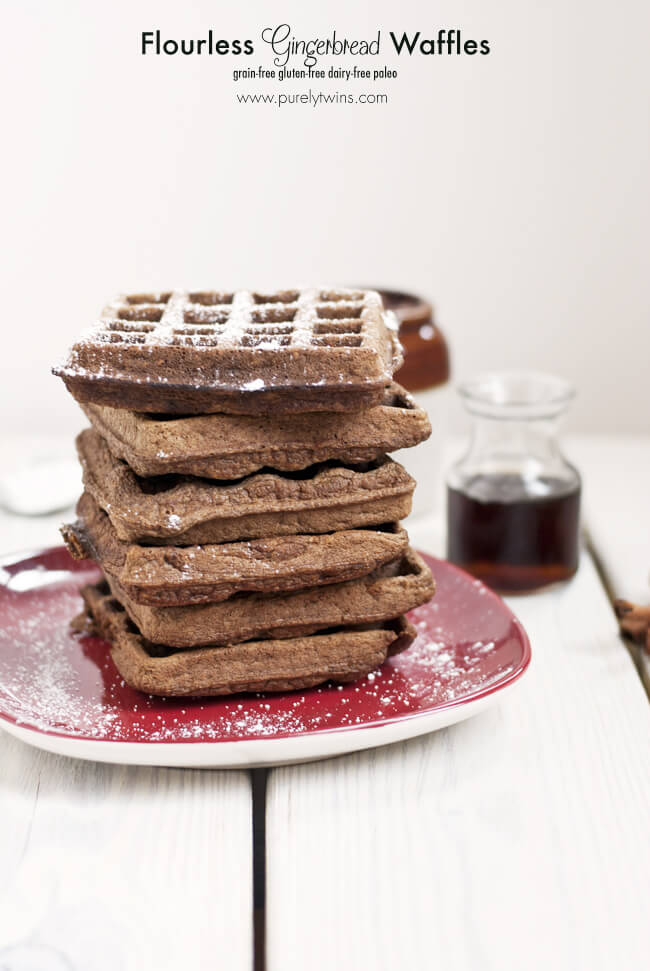 Waffles are a breakfast favorite among adults and children. You can see them served all across the brunch buffets of the world. There's something about waffles that makes them feel like a treat, like something special. With these grain free gingerbread waffles, not only are you getting a delicious treat, but a healthful one too! Made with a base of plantains and coconut oil, and spices perfectly with cinnamon, ginger, and nutmeg, these gingerbread waffles taste delicious topped with grass-fed butter and healthy maple syrup.
"Waffles are our dad's favorite. Whenever we would stay at hotels that offered breakfast where they had those do it yourself waffle makers. He would always make one. Us girls liked our eggs and pancakes. But lately, we've been into waffles. Lori got a waffle maker for a wedding gift and we fell in love. We like that they are fairly quick and easy to make. Basically mix, pour and let the machine do the work. Simple. We like that.
After making a few other waffle recipes from our egg-free chocolate waffles to our protein coconut flour waffles  to perfect fit protein squash waffles  to soft grain-free waffles we knew we need to make more waffles. We like thick moist, soft waffles. Making homemade waffles is so much fun for us. And better for you. Better than those frozen waffles from the store too. Really though… nothing beats homemade!
Actually awhile back we asked you guys on facebook what recipe would you like us to make next. And gingerbread waffles was one of the ideas! And as you can tell we are turning more and more into waffle fans as they are super easy to make. If you don't have a waffle maker, we recommend putting it on your wish list 
The funny thing is we both started obsessing and always wanting waffles. Pancakes are a given – we always want those. But waffles lately have really been hitting the spot for us. We also like the way the look. Your food has to look good too, right?
For these gingerbread waffles they are perfectly balanced of ginger flavor to sweetness from the molasses. Love the depth in flavor the molasses provides. We like blackstrap molasses because it tends to have the highest nutrient content."