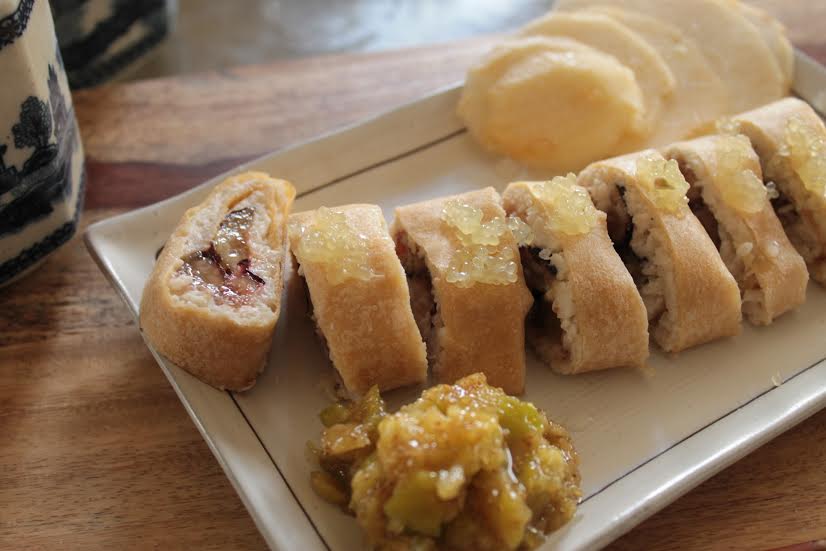 I am a big fan of Asian food. In high school, I would make my weekly trips to the local Chinese buffet (which now makes me cringe!) and I still love the occasional platter of fresh sushi. I love the flavors, textures, and construction of the cuisine. Thankfully, there are great real food recipes that incorporate the Asian flare like chicken salad with fresh citrus, sweet and sour chicken, and fried rice.
But this pale dessert sushi takes real food Asian food to a whole new level. Made with hearty and sweet ingredients like coconut meat, honey, figs, and apples, this is not only a delicious dessert, but a fun dish to assemble. Try making these at your next party!
"I owe my health for the past decade to the Paleo diet. After struggling to heal IBS for 6 years with no luck, I tried a sweetener-free, nut-free version of the Paleo diet. After a year, of no cheating, my diet healed my body and brought me back to balance. Even my food allergies went away, I can even eat nuts now.
I love cooking Paleo-style because it brings out my creativity. I learned to cook while following the Paleo diet and now spend my free time in my kitchen and sharing recipes on my blog.
Sushi is my favorite food and while visiting Japan, I ate a ton of sushi rice. It's supposed to be a safe starch, but that sweetened, sticky rice brought back old symptoms of constipation.
When I returned home, I attempted home made Paleo sushi, using cauliflower rice, and it was just as good.
Then I got crazy and experimented with a sushi dessert roll. I had so much fun riffing on a sweet version of my favorite savory dish.
Once you have all the supplies, this recipe is so easy. And don't worry, I used raw figs to mimic the raw fish!
A note on ingredients: To make this recipe you need Pure Wraps . These crepe-like wraps are made of dehydrated coconut meat and coconut water. And they're great to have on hand for quick sandwich wraps.
I used other optional ingredient to make this roll because I wanted to get fancy. Finger limes are teeny limes that produce tiny caviar-like lime balls when cut. Pretty cool. They nicely imitated Japanese fish eggs that decorate some sushi rolls but you can totally leave this hard to find ingredient out.
If you're a sushi fan, I suggest buying a sushi mat for easy rolling. They're cheap, small and can be found in most grocery stores. I got mine at Whole Foods, but you can also buy one online here. You can make this dessert with out a sushi mat, just follow the instructions and check out the photos below."