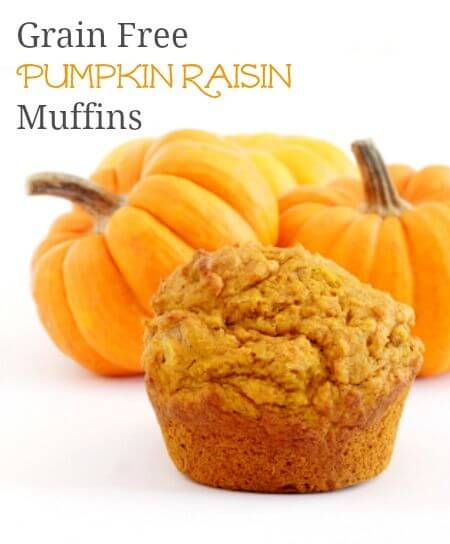 Pumpkin raisin muffins are a favorite treat for both children and adults. With this recipe, you can make grain-free pumpkin raisin muffins for your family to snack on without all the junk! This recipe is easy to assemble and will be ready before you can say "pumpkin raisin muffins" ten times fast.
"THESE LITTLE BEAUTIES HAVE QUICKLY BECOME A WEEKLY FAVORITE IN OUR HOUSEHOLD.
Their inspiration comes from one of my favorite cookbooks "Every Day Paleo Family Cookbook" by Sarah Fragoso. The reason I love this cookbook is because it lives up to its title EVERY DAY…as in you can easily fit these recipes into everyday life…which is important when feeding a busy family a nourishing whole foods diet. So I share this recipe that has been working for us.
INGREDIENTS
2 cups almond flour (I use blanched almond flour from Honeyville)
⅓ cup coconut flour
1 teaspoon baking soda
1 tablespoon pumpkin pie spice
½ teaspoon sea salt
1½ cups organic canned or freshly baked pumpkin
6 eggs (organic, pastured best)
¼ cup raw honey
¼ cup melted butter or ghee
1 cup raisins
P.S. Just a disclaimer…pure bicarbonate of soda (baking soda) is allowed on the full GAPS diet for those who do not have low stomach acid issues. I recommend proceeding with caution, and listening to your body.
METHOD
Preheat your oven to 350°F
Place muffin papers in a muffin tin or grease the muffin tin with butter
Add dry ingredients to a medium mixing bowl – almond flour, coconut flour, baking soda, pumpkin pie spice, sea salt
Add wet ingredients to a large mixing bowl – pumpkin puree, eggs, honey, butter.
Keeping it simple. ENJOY."