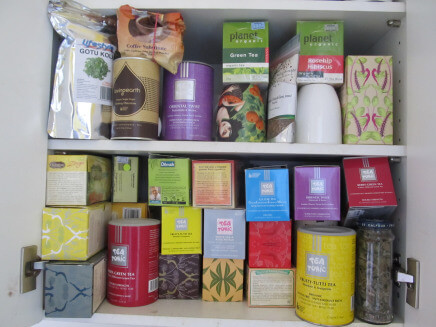 Herbal teas are warm and cozy drinks that many people enjoy. But they are also accompanied by major health benefits, including the ability to fight off illness. Herbal teas can promote relaxation, mental clarity, and improved circulation. In this article, Catherine discloses the many benefits of herbal tea, how to grow your own herbal teas, and a list of twelve herbal teas that you should try.
"I'm a big fan of herbal teas, or tissanes. When I started drinking them, I had a difficult time, as like many people initially I did not enjoy the taste. But I had always drunk my coffee and tea without milk and I think that this helped me make the switch. I still find herbal tea with milk added just weird (unless it is chai of course).
The problem for me was that the first herbal tea I tried was peppermint, and I tried it during pregnancy because it was recommended for treating the nausea of morning sickness. However it made me feel even sicker at the time and every since whenever I sip on peppermint tea it comes accompanied with a wave of nausea – the power of suggestion!
Peppermint is well known as a wonderful digestive – and it is, for just over about half the population. For the other half peppermint can have a very different effect. It is a herb that has a relaxing effect on the sphincters of the body. It can have that effect on the sphincter at the top of the stomach, allowing partially digested food to flow from the stomach into the oesophagus, resulting in heartburn and indigestion. It is definitely not the tea of choice for anyone who suffers from heartburn.
This is a wonderful reminder of the power of herbal tea. Herbal teas not only offer a tasty warm drink, they also deliver a dose of medication at the same time. If you have a negative sensitivity to the effects of that particular plant then you are certainly going to feel the negative effect in your body."