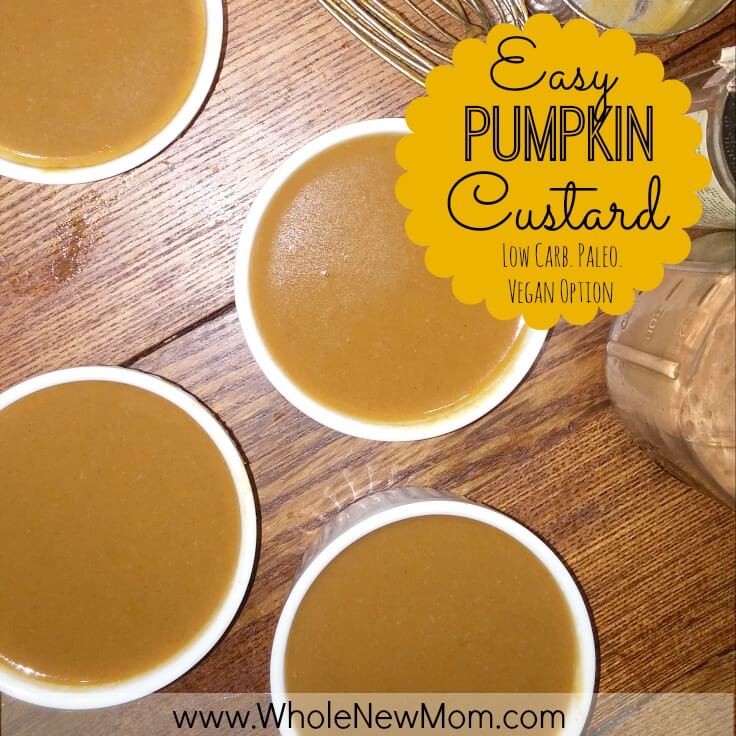 Even though we got our first snow yesterday, I'm still in Fall-mode. That means I'm still on my yearly pumpkin kick. I want to eat pumpkin in cookie form, muffin form, smell pumpkin, and use it as a scrub. Now, with this recipe for paleo pumpkin custard, I can add another delicious recipe with the added bonus of beneficial gelatin.
"I love pumpkin. I mean, really. I've already got Pumpkin Snickerdoodles, Soft Pumpkin Cookies, Homemade Pumpkin Pie Spice, Dairy free Pumpkin Spice Creamer, and a roundup of Healthy Pumpkin Recipes on my site, and I've got a Pumpkin Chia Pudding that I need to share. But I am really excited to share this Pumpkin Custard Recipe with you today.
I saw this recipe a few weeks ago, and was thrilled that it meets our family's current special diet requirements. It's dairy and egg free, so my son with life threatening food allergies to those foods, can have it, plus it's gluten free (we've all been off gluten for a pretty long stint now) — I just knew that I needed to make it — and soon.
It really is just fabulous for those on special diets. I made it more low carb since we struggle with candida, and monkeyed with the spices a bit and now it seriously tastes like a pumpkin pie.
What could be better? Pumpkin Pie anytime.
Perfect for my pumpkin-loving family.
In fact, they loved it so much that I made 4 batches, and it was totally gone in 2 days.
I guess I should make 8 batches next time.
Actually, that's what I used to do.
My oldest and I used to bake together all. the. time. I disliked cleaning the kitchen so much (plus we would go through the healthy treats pretty fast) that I would literally make 8 batches of practically any recipe that I tried.
My son got so "into the cooking" that he learned math at a very early age. He could multiply just about any number by 8 (think 3/4 tsp, or 2 1/3 cups) and would play with measuring cups and spoons in the bathroom sink to work on his measuring and calculating skills.
Imagine our surprise when one day he came out of the bathroom to announce,
"1/3 plus half of a third equals 1/2!"
It took my husband and I a moment or two to figure that out, but yes–he was right :).
Back to the Pumpkin Custard.
This is sooo good.
Loaded with the healthy goodness of coconut, pumpkin, and gelatin (I only use healthy gelatins like Great Lakes or Vital Proteins).
Get your pot out and whip up a bunch."