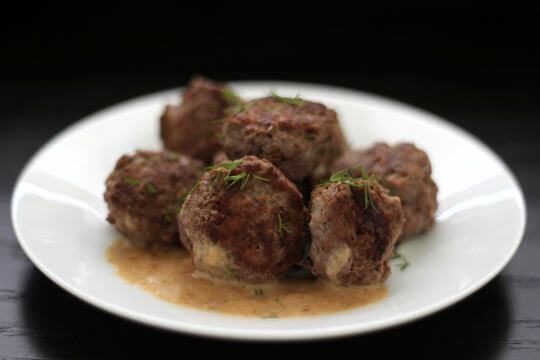 Swedish meatballs is such a comforting dish and it offers such a unique flavor. These meatballs take the flavor and the nutritional benefits to a whole new level. Made with bison, heavy cream, delicious spices, and fresh dill, these Swedish meatballs are tasty, simple to make, and will satisfy the whole family!
"Swedish meatballs can be a main course, but their small size is ideal for an appetizer, ready to be stabbed with a toothpick or picked up by hungry fingers. But if you're not planning a festive smorgasbord in the near future, then just stash these meaty morsels in the fridge for middle of the week snacking.
The allspice and nutmeg seasoning in these Swedish meatballs is subtle, but enough to be noticed, and makes the dish taste different from your average meatball. Swedish meatballs are usually made with a blend of beef and pork, which you could certainly do, but they're also really delicious made with ground bison. The small size of Swedish meatballs means they don't need to be cooked long, which is perfect for bison, a type of meat that is most tender and juicy when served medium rare.
Why use bison? Bison is a great source of protein, iron and omega-3 fatty acids. Bison aren't mass-farmed and rarely treated with antibiotics and hormones. Ideally, buy bison that is labeled as 100% grass fed.
The cream sauce served with these meatballs is traditional (as is a dollop of lingonberry jam on the side) but not necessary if you don't do dairy. There's no question the sauce is delicious, but Swedish meatballs will disappear quickly without it too."