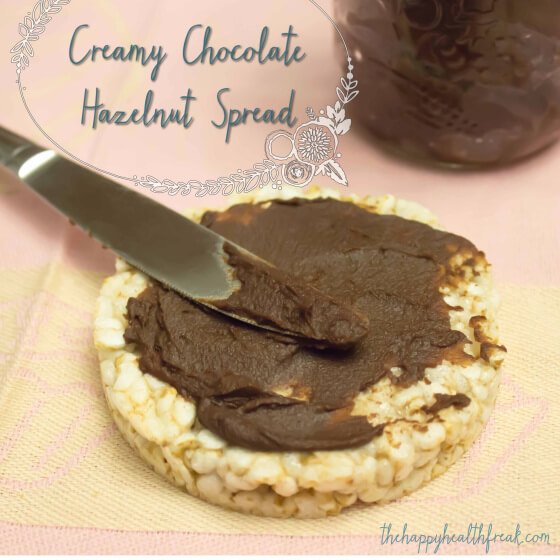 The chocolate and hazelnut flavors combined with the creaminess of Nutella are literally an international hit. unfortunately, although claiming to contain no artificial flavors, it is made with much artificial sugar and palm oil. But this homemade vegan nutella is made from healthful ingredients like raw hazelnuts, coconut sugar, almond milk, cocoa powder, and olive oil. So the next time you are wanting a chocolatey hazelnut spread, try making this healthy version!
"It's been a while since I had Nutella, but the other day these cute little samples came in the mail. They sat in the cupboard for a while, then I devoured one on a rice cake. Uh oh. I forgot how good it was!! Now what?! I really did not want to rush out and buy a jar. Mostly because I knew it was nowhere near as healthy as they make it out to be. They try to pawn it off as a healthy breakfast option by saying things like: "91% less sodium than the leading smooth peanut butter" or "Hazelnut spread made with skim milk and cocoa". Sounds harmless right?! The first two ingredients are sugar and palm oil…yeah, nice try Nutella!
I remembered seeing a recipe for Hazelnut Spread in the cookbook that came with my Vitamix so I thought I'd give it a shot! You can also make this in your food processor.
This process took a little longer than I expected, but it does pay off. It requires you roast the hazelnuts and rub the skins off which can be a little painstaking, so if you can find hazelnuts without skin that would save a step.
I also modified the Vitamix recipe to reduce the amount of sugar. Check it out…"